Lawn flags to return to Baldwin City on July 4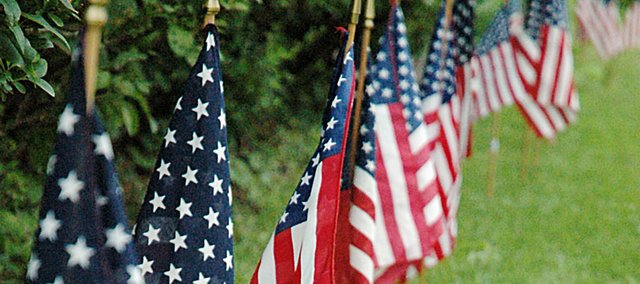 When Baldwin City residents wake up on the morning of July 4, they will see something in their yards they have been missing the past couple years; an American flag.
Resident Krystal Williams began the tradition of placing American flags in the front yards of residents in Baldwin City in 1994, with the help of sponsorships from local businesses, but the tradition ended a few years ago.
Williams said she received calls last year wanting to know when the tradition would start again, and is glad to see that it will happen this year.
"I think it just shows the Fourth of July spirit, you know, that we're celebrating our country," Williams said.
Krystal's husband, Jim, a member of the Masons of Palmyra Masonic Lodge No. 23 and last year's master of the lodge, spoke to the lodge in January about the masons helping to bring the tradition back. He wanted it to be a surprise for his wife.
Jim Williams said the tradition ended when Krystal was diagnosed with Parkinson's disease and had to retire, and she was excited to see it come back.
"It was a pretty big deal to her," Jim Williams said. "That's why we decided to pick it up again, and so (the Masonic lodge is) going to do it and be the lead sponsor on it and then have some other organizations join in and help."
Other organizations, along with the Masonic lodge, are contributing to making the practice of putting the flags out happen again. The American Legion Lloyd Beaton Post No. 228, Order of the Eastern Star, Reece and Nichols Gold Realty, Baldwin State Bank, Kansas State Bank and Mid-America Bank all helped to make the project happen.
"The thing I like is how these groups came together, and the businesses, and you can kind of see the same thing in that business wise, civic group wise, we still have our patriotism," Masons of Palmyra member Tom Kleist said. "It's not dead."
The Baldwin City Boy Scout Troop 65 will place 1,500 flags in residents' yards the morning of July 4.
Kleist was happy to see the support of the organizations, and hopes other organizations, such as the Baldwin City Lion's Club, Rotary Club and Knights of Columbus Council of Baldwin City/Edgerton will help the project in the future.
"The more of the community that would be involved, yeah, we'll still coordinate and be happy to, but it would just be great to have more, and that way you get more people involved and they're more aware of what's going on," Kleist said.
Kleist came to Baldwin City in 2006 after spending most of his life in larger cities, and said projects like this are what separate smaller communities from larger ones.
"I just think it's a great thing, and having been in a big city all of my life, when we moved here everybody said, 'Tom, you won't like it,'" Kleist said. "It took me five minutes and this is one of the things, this is the kind of thing that you have in a place like this that you don't have when you live in Johnson County."
Jim Williams thinks the support of the organizations and businesses is great, but most of all, he is happy to know the flags will reach resident's yards on July 4.
"I just really am extremely happy that this is going to happen," Jim Williams said. "I hated to see it go away and I'm glad to see it's back."