BHS

football team wins 7-on-7 title; working hard during summer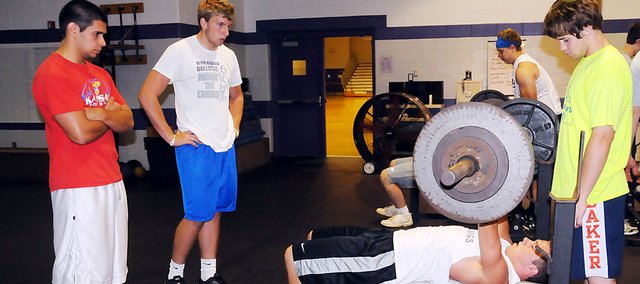 Mike Berg's Baldwin High School football team waited until the opportune moment — the final night — to play it's best 7-on-7 games.
After splitting most of their nights at the annual summer passing league, the Bulldogs never lost Monday night at Eudora High School. They won three games and tied twice, which was the best record of any team. A 3-0-2 record earned the Bulldogs the tournament championship.
"It was fun to win the tournament title," Berg said Tuesday. "We played just halves, so we had a couple ties in there where teams scored every possession. But we still played well."
His players agreed.
"It felt good to win it," junior Tyler Cawley said Tuesday. "It was a lot of fun. Everyone seemed energized last night. It was our best night for sure. During the other nights, we would just play half of the game and come out flat at the beginning. Last night, we came out strong and kept rolling from there."
Berg and Cawley credited the practices and previous games for the Bulldogs' success Monday.
"We started building chemistry with our receivers," Cawley said. "We ran really good routes. Practicing every day helps with that and made the games a lot easier."
The Bulldogs' coach was impressed with his junior quarterback, as well as the other players. He said it was an all-around effort that helped win the title.
"Tyler Cawley threw the ball awesome last night," Berg said. "Kids were catching the ball and running better routes. I couldn't be happier.
"Defensively, we were so improved from the first week," he said. "We've been doing this for the whole month of June and we weren't very good in the beginning. As a coaching staff, we said our goal is to keep getting better. We did that."
However, it was the BHS offense that had him most impressed, particularly the speed of his players.
"We were a machine last night," Berg said. "I don't think there was a team that stopped us. We marched the ball down and maybe dropped a few passes, but I don't think there was a team that shut down our routes. We have a lot of young guys with quickness. We have Asher (Hannon), who is in my mind one of the fastest kids in the state. He proved that last night by having a great night of 7-on-7."
Berg's compliment to Hannon isn't far off. Hannon finished seventh in the Class 4A 100-meter dash at the state track meet in May. Only the sixth-place finisher, a junior-to-be from Hiawatha, will return next year. The other six runners were graduating seniors.
While the 7-on-7 success was fun Monday, the month of June and entire summer is about becoming more physically gifted. Dozens of BHS athletes, most of whom will play football in the fall, have been come to school very early almost every day of the week.
Many of them come to the school at 6 a.m., while others show up at 7 or 8 a.m. Any time works for Berg. The athletes come in lift weights and run conditioning workouts in the gym. Berg estimates more than 50 attend the voluntary sessions.
"We're trying to improve the overall athlete," Berg said. "I'm not here to make 50 football players. I'm here to make 50 athletes, because they play different sports. We're working on their flexibility, agility, endurance, strength and speed. We are trying to build that well-rounded athlete and build team unity.
"We've started a tradition," he said. "The kids know that wins are earned in the offseason, because we develop our strength and speed. The seniors from last year set a standard and said if we are going to win, we have to be here working out. The new kids have taken that philosophy to heart."
Besides lifting weights and summer conditioning, the BHS football players are practicing twice a week. They've worked on offensive and defensive schemes, which came in handy for the 7-on-7 games.
"We're picking stuff up great," Berg said. "We went to a contact camp early in the summer and we had maybe one practice before the camp. We were running plays off of cards. Now, I don't have to run plays off of cards. I call the play out and the kids know what they are doing. We haven't even had our camp yet, so we are way ahead of where we normally are at this time."
The state formed a new rule two years ago that allowed football, basketball and volleyball coaches more contact with their players in the summer.
"It's a big advantage," Berg said. "We can work more on technique when practices start and not on memorizing our plays. We can memorize them in the summer and build a better football player in the fall, because we're working on how to tackle, block and other aspects of the game."
Less than two weeks remain until the Bulldogs begin their annual summer camp July 11. Until then, they will keep putting in the time in the weight room and gym.
"It's been a great summer," Berg said. "It's super busy. We're asking a lot out of our kids and I couldn't be more proud of them. They are all committed. They are committed to their baseball team, football, basketball and whatever sports they are doing right now. We're proud of them."