Area basketball players enjoying Baker University summer camp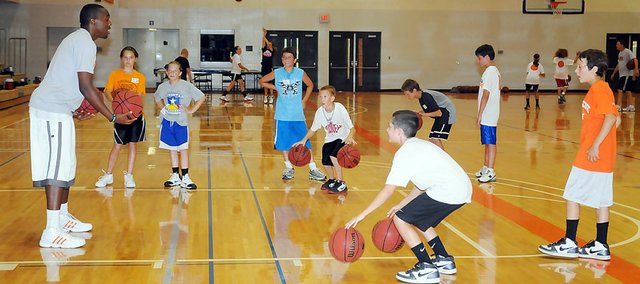 The sounds of shoes squeaking and basketballs thumping on the court in Collins Center was not from members of the Baker University men's basketball team, but rather campers in head coach Brett Ballard's Summer Basketball Camp.
This is the second year for Ballard's camp and Ballard said the numbers are up from last year, having about 65 campers this year and about 50 last year. For Ballard, what's important is the camp itself.
"I really love camps. I believe in basketball camps," Ballard said. "They were important to me growing up as a kid, so we try to do a good job with them and not only should the kids have fun, but make sure they're learning something while they're here too. I feel good about where we're at and I'm excited about our numbers."
Camps are also important to BU senior guard Connor Bechard, who has a long resume in terms of working camps. Along with working Ballard's camp both years, Bechard has worked Kansas University head coach Bill Self's camp for three years and camps for his father, who was the head coach at Gardner High School.
Bechard is hoping the camp will help get the program's name out to the community. Aspiring to be a coach himself, Bechard likes to see the impact the camp has on the children participating.
"When you see a kid that you taught in camp, or you coached in camp, and then they come to your game to support you and ask for your autograph, it's pretty special," Bechard said.
Baker basketball player Drew Berg and former player Jaris Wommack, along with Bechard, will work the camp along with Baker assistant coaches. The camp ran from Monday through Thursday, with the session for children in grades two through six from 9-11:30 a.m. and the session for grades seven through 12 running from 1-3:30 p.m.
Two KU basketball players are scheduled to be at the camp today as counselors to work with the campers and sign autographs. Last year, players Tyrel Reed and Josh Selby attended the camp.
Ballard said he assumed some of the campers came last year because of the opportunity to meet KU players, but knows that KU can help promote Baker's program.
"I've always said there's no reason that I don't think I should use Kansas basketball to help promote Baker basketball," Ballard said. "I understand, we'll probably never be as big as KU basketball, because it's obviously just huge in this area and in the state. But at the same time, I think we're building something special here and it's nice to use KU to get the word out on what we've got going on."