Tony Weiss selected as
BHS

senior male athlete for 2010-2011
Individual state medals, team titles cement
BHS

runner's legacy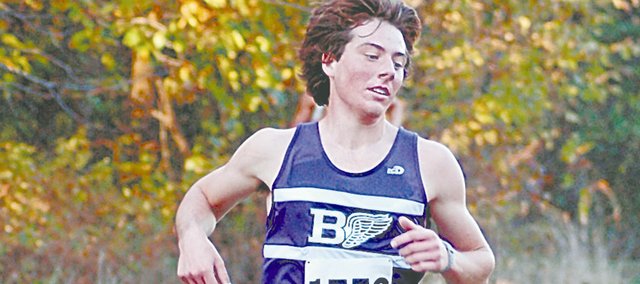 Tony Weiss finished his first seven seasons at Baldwin High School successfully with state medals.
However, the eighth and final season for the now 2011 BHS graduate, didn't quite go as planned. A thigh injury, followed by an ankle injury, hurt Weiss' chances of becoming a four-time state medalist in the 3,200-meter run in track.
Although the finale wasn't what Weiss wanted individually, he did finish his career with a team state championship. Add that with a team title in the fall, four top-four finishes at state cross country and five state track medals and you've got a successful high school running career.
"I had a really good career," Weiss said. "It was nice way to end my senior year with winning state in track and cross country as a team. That doesn't happen very often. I couldn't really ask for more than a state championship. Individually, I thought I did pretty well all four years. Being hurt my senior year of track did suck a little bit, but that happens sometimes. I can't let it get me down. I was pretty happy with the rest of my career."
BHS coach Mike Spielman, who coached Weiss in cross country and track all four years, said Weiss was one of the best leaders he's had during his 19-year tenure at BHS.
"You couldn't ask for a better competitor or better leader," Spielman said. "He was in the top four at state in cross country all four years. In track, he medaled at state three years. He just did a great job for us in both sports."
Weiss was quick to compliment his coach.
"He helped so much," Weiss said of Spielman. "I couldn't have asked for a better coach. He knows everything. He helped us with practice and our racing strategy. He makes you better. He doesn't just make you go out and run. He focuses on the little things. I don't know if I would have had the same success anywhere else."
Blazing the trail
Weiss entered BHS in the fall of 2007 with high expectations surrounding his career before it even started. He left Baldwin Junior High School with the track school record in the 3,200 run.
As a team, the Bulldogs were coming off of their first runner-up finish at the state meet since 1997. They lost a core group of runners from the previous season, so Weiss had a big role on the team before he put on his first BHS jersey.
"He came in with big shoes to fill," Spielman said. "He was our No. 1 runner all four years in cross country. That says something about him being consistent and not being hurt."
Weiss accepted that role and led the Bulldogs all season. He finished fourth at the state cross country meet, despite, what he says, not knowing exactly what he was doing during the race.
"Honestly, I had no idea," Weiss said. "I had no clue. I was just out there running. I was just listening to coach Spielman. He told me to keep moving up. I came across the line and they handed me a fourth-place ticket and I was shocked. I thought that was pretty cool to do as a freshman."
His fourth-place finish boosted the young freshman's confidence and his career, which would be filled with many more state medals.
"I didn't really know what potential I had as a freshman," he said. "After my freshman year of cross country, I got a better idea that I could run with those guys. That built my confidence up and set the tone for the rest of the year. I had high expectations for myself and other people had high expectations for me, too. That helped push me through practice every day."
Weiss went on to finish runner-up at state as a sophomore, third as a junior and runner-up as a senior. That gold medal eluded him during his career, but he was happy with his career.
"It was pretty exciting to finish in the top four every year," Weiss said. "I couldn't really have asked for anything better. I would have liked to win once, but I'll take second place twice. It's also very nice to be in the top four every season."
In Weiss' defense, Class 4A was loaded with solid runners during his entire career. Some of them were even the best male runners in all of Kansas.
"The last few years, 4A has had the No. 1 runner in the state," Spielman said. "He's been going against some really good runners. If he would have been in a different class, he might have won a state title. Unfortunately, that's not how it works and he understands that. He did a great job of leading the team and knowing he didn't have to win for us to do well as a team."
Although Weiss would have enjoyed an individual state championship one of his four years, he helped the Bulldogs rise to glory as a team. Weiss led the Bulldogs at the state meet in the fall. As a team, BHS won its first state title since 2005.
"He helped get us back on top," Spielman said. "When he came in, we had just started finishing second as a team for the first time in a decade. To end his career with a state championship, after hearing and seeing all of the other runners that had done it, was a really nice accomplishment for him."
During his career, the Bulldogs finished second in 2007, third in 2008, fourth in 2009 and first in 2010. After four years of hardships, Weiss earned his state championship.
"It was awesome," Weiss said. "It's something we wanted to do all four years. Our goal was to be state champions every year. Once you've put in the work, it made it that much sweeter to do it your senior year. It would have been nice to get it earlier, but it was special to accomplish our goal our senior year.
"It definitely left a mark," he said. "A lot of people can finish in the top four individually, but you don't always remember the second or third-place runners. But when you win, you're always going to be remembered. Everybody on the team will be remembered as state champions."
Staying on track
After a successful freshman cross country season, Weiss' confidence built as he prepared for his first year of high school track. He had been distinguished junior high career, but now he was running against the best in the state.
Weiss placed high and won a handful of races during his freshman campaign. He even qualified for the state meet in the 3,200 run. At state, he finished seventh, earning his first high school state track medal.
"In track, everything is more based on pace," Spielman said. "You also don't have all of the hills, which I think is one of his strengths. He's a strong kid and a strong runner. Cross country suited his talents a lot more, but he did a really nice job in track, too. He doesn't have blazing speed and in track, even in the mile, it often turns out to be better for the kids with a faster turnover."
Weiss continued his track career with a top-notch sophomore and junior seasons. As a sophomore, he improved his 3,200-run placing by finishing fifth at state and broke the 10-minute barrier for the first time in his career. He also placed 12th in the 1,600-meter run at the state meet.
During his junior season, Weiss improved his state placing and added another race to his list. He finished third in the 3,200 and ran 9:45.18, which remains his personal-best. In the 1,600, he improved his finish and time from the previous season as he placed sixth. Weiss also helped the 3,200-meter relay team place fifth.
"I was pretty happy to improve my time each track season," Weiss said. "It was nice to know I was getting better every year. The competition got harder and harder, but I was happy to medal every year at state."
Not so perfect ending
With three years of state medals and fast times behind him, Weiss hoped to end his senior track season with a bang. Unfortunately, an injury to his quad muscle and ankle deterred him from finishing as planned.
After the Bulldogs' first meet of the season, Weiss felt his quad flare up and cause him some pain. As he continued to practice, the pain became worse. Spielman had his star senior use the exercise bike and train in the pool for a week or two, in hopes that it would heal his thigh.
"There was nothing I could do about it," Weiss said. "I pulled my quad. It would get a little better and then it would get worse and worse. The more I ran on it, the worse it got. I just don't think I rested it enough. I just took two-and-a-half weeks off and I started running again and it's feeling a lot better now. I don't even feel it now. I guess all I needed was some rest."
It started to work. His thigh slowly began healing and causing him less discomfort. Then he twisted his ankle. Weiss dealt with the two injuries for the next month, despite running in pain nearly every race.
"He kind of had little injuries throughout his career," Spielman said. "He was always able to come back from them and end the season really well. This was one season where he couldn't get over the injuries. It was the only time in his eight times of going to state, he didn't bring home a medal. I know it was a big disappointment for him to end that way. He still did a nice job of leading the team and cheering on his teammates."
He ran only one race at a few meets. At the regional meet, he ran the 3,200 and 3,200 relay. He helped the relay qualify before gutting out a gritty fourth-place finish in the 3,200 run. At state, Weiss finished 15th in the 3,200 run. The 3,200 relay team placed 11th in the race.
"It was tough to make it to state," Weiss said. "I knew even if I made it, it was going to be really tough to place at state. I made it, so I can say I made it to state all four years and medaled three years."
To sweeten the deal and help his pain from a disappointing individual season, Weiss enjoyed the Bulldogs' team state championship. It was the first since 2002.
"To go out as the senior group, who won two state titles, is pretty special," Spielman said. "That hadn't been done since the class of 2002 with Matt Noonan, Eric Black, Glen Stansberry and Hans Broers. It was a neat deal for him."
Now Weiss will be running for Pittsburg State University. He signed a letter of intent to run cross country and track for the Gorillas.
"I'm definitely excited," Weiss said. "It's four more years to go out, improve, get better and show what I can do. I'm excited because I'm done with high school now and I have a bit of an idea where I can be and what I can do. It's that much more exciting to know what's coming. I'm excited for it."