Students learn chemistry at summer science camp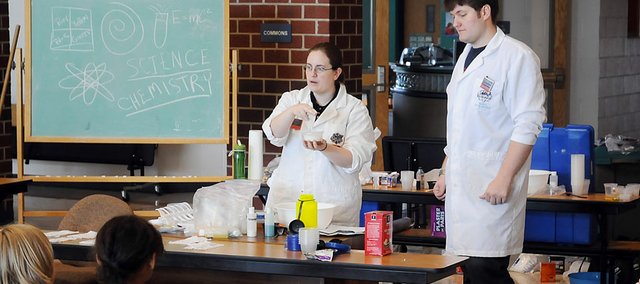 It may be summer, but the learning didn't stop for a group of children Friday at the Baldwin Elementary School Intermediate Center.
The 24 children, between the ages of 6 and 12, took part in the Mad Science Crazy Chemistry Day Camp, from 9 a.m. to 4 p.m. Friday, run by Mad Science Instructors Alicia DeBusk and Brian Klinzing.
The focus of the day was on chemical reactions, and the instructors talked about what makes a chemical reaction and how it is different than a physical reaction. The majority of the day was spent conducting experiments, such as the children making their own Tootsie Rolls and ice cream, making sidewalk chalk with plaster of Paris and seeing how soap cleans stains from clothing.
"We want the kids to learn that science can be a fun activity," DeBusk said. "It doesn't have to be something boring and oh, someone talks at me, but it can be something interactive and engaging."
Twenty-four students is the maximum number allowed in the camps, because the experiment kits the instructors use is only made for 24. DeBusk said the camp was at capacity two weeks before the camp, and sometimes spots are still being filled the morning of a camp. She added it wasn't hard to keep the children's attention, and the instructors try to not lecture and instead do hands-on activities.
"We do a lot of ok, let's break, let's do a game, let's do a demonstration, let's do something hands on," DeBusk said. "So it's never us standing up here talking for more than 10 minutes max trying to explain something scientific, but let's try it, let's do it, let's get you engaged."
Mad Science, a company from Canada that has a location based out of Kansas City, Kan., not only teaches summer camps and afterschool programs, but also has booths at events and birthday parties. The instructors use kits complete with all the materials needed to perform the experiments.
DeBusk said children can go to many different camps and never see an experiment twice.
"It usually averages about 10 to 15 experiments per kit depending on what size it is, so like some of them are pretty small because we have like booth-sized things that really only have four or five experiments," Klinzing said. "But then there are all-day things like this that have up to like 13 pretty easily and then there's multi-day tech camps, like there's a robotics one that happens for four or five days, and that's like 10 experiments a day. So, I mean, there's a lot."
Friday's camp was the first of three in Baldwin City for the summer. Mad Science will also offer a junior engineers day camp July 8 and a rocket camp July 29, both at the BESIC. Both camps are for ages 6 to 12 and costs $40. At least 10 children have to sign up for the camp to occur.
"I think the kids were really into it and really liked it," DeBusk said. "… They were pretty responsive to all our ideas, and were really able to grasp some concepts that sometimes take some time."