Storms cause problems for community theater's opening weekend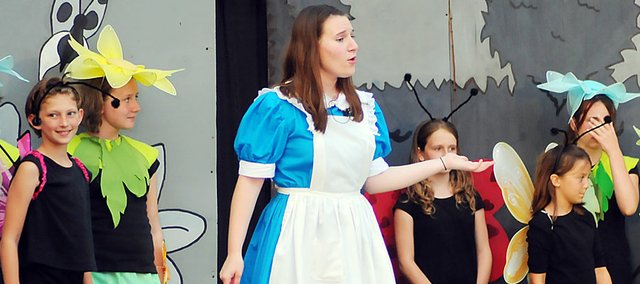 Mother Nature can always create problems for an outdoor summer musical.
Director Mary Jane Mingus and the Baldwin City Community Theater cast of "Alice the Musical" found out first hand how weather can affect a show. The cast and crew finished only two of its four shows during the first weekend of the production.
Problems started with the planned debut last Thursday night. The first night of the musical was canceled because of rain. Next came a thunderstorm late Friday night, which blew down part of the stage set. The crew repaired the set Saturday before the next performance.
After two nights of productions, Sunday's show ended early. Mingus called the show off during intermission, because a storm was moving into the area. There was also lightning in the area Sunday evening.
"The weather wasn't working with us, I'm afraid," Mingus said. "Mother Nature wasn't too kind to us a couple of nights. One night, we got rained out completely. On the last night, Sunday night, we called the show off because there was so much lightning around us. We didn't want to put anybody in danger."
Attendees to Sunday's show didn't leave empty handed. Since they were unable to finish the performance, anyone who attended the show was given a voucher to come this weekend for free.
Although this year's weather has been troublesome with rain, wind and lightning, it's not uncommon for the summer outdoor theater crew to deal with Mother Nature.
"We had a lot of wind last year, which created some problems with the set," Mingus said. "It was nothing like this year. We've had bad weather all the way through this year, which is disappointing. It's disappointing for the actors and everybody associated with the show."
But, as the old saying goes, the show must go on.
Despite disappointment for opening a day late, Mingus was pleased with Friday's performance. The show was once again good on Saturday night at the lotatorium, located between Seventh and Eighth streets on High Street.
"The opening night is exciting for everybody," Mingus said. "It was disappointing not to open Thursday. Friday went very well. The show has come together and it's tight. It's going very well."
The annual summer musical will continue this week. There will be performances at 8 p.m. tonight, Friday and Saturday. Tickets can be purchased at the gate.
"We're looking forward to it, and we'll be back Thursday, Friday and Saturday nights," Mingus said. "Hopefully the weather will cooperate."