Planes, Trains and Automobiles avoids weekend showers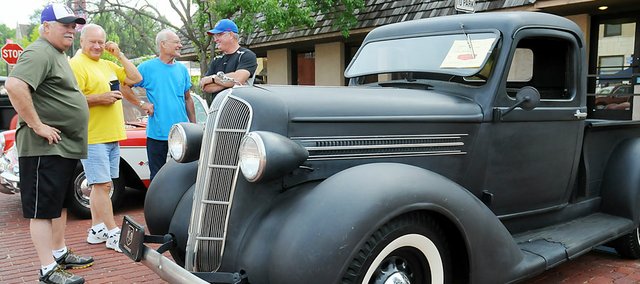 For the first time in three years, the Planes, Trains and Automobiles event Saturday did not end early due to rain.
This was a feat organizer Steve Friend isn't used to, but was glad to see.
"I thought we had a steady crowd. You know, I can't estimate what we had, but I thought we had a nice crowd and good flow throughout the day," Friend said. "Again, this is the first time we've made it to 2 p.m. in a couple years. So, you know, I don't have anything to compare it to, but we had a really nice turnout in cars."
Friend said fewer cars participated in the car show, 82 compared to 88 last year, but they were nice cars that give the basis for the downtown portion of the event.
One of the automobiles in the show was a 1936 half-ton Dodge truck owned by Baldwin City resident Daryl Rockers. Rockers has attended the event for the past four or five years, but decided this year to enter the show for the first time.
"I just never took the time to work on it," Rockers said. "I had to put brakes on it and a fuel pump just get it going good. I was pretty proud that it made it up town and back."
Rockers spend a couple of months preparing his truck for the show, but was still also able to walk around the show and see what other car-lovers drove in.
"I love it. There was a lot of people that looked at my truck that seemed to be really interested in seeing that old truck," Rockers said. "I thought they had a real good show this year."
Friend and other organizers will meet next week to discuss the success of the event as a whole and at the Midland Depot and Vinland Airport.
For the events downtown, the Walking on Sunshine 5K run/walk had 68 participants and raised about $1,000, more than $500 in prizes was given away, Ford and Chevy car dealerships had new cars on display and Susan Baker's ALS fundraiser raised about $1,000.
Friend said he would look at what did and didn't work from this year's event. One aspect of the event Friend has considered changing is the time frame in which it takes place, starting later in the afternoon.
"We'll just have to see," Friend said. "That's our goal is something that we could start later in the afternoon and go into the evening, you know, when it starts to cool down."

While Friend and the other organizers will begin the focus on next year's event, Friend was pleased with the outcome of Saturday's festivities.
"I thought it was the best one I had been to out of all the years, and that isn't just because of the rain," Friend said. "I just thought that we had more things to offer and that were good quality things."