Early Saturday morning storm snaps trees, power poles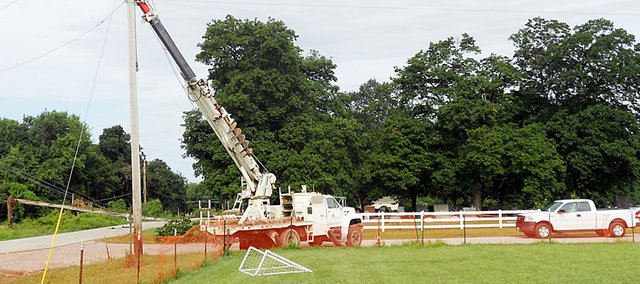 Baldwin City residents might have slept through the thunderstorm early Saturday morning, but they awoke to damage around town and working electricity.
Strong storms rolled through the area after midnight with powerful winds and heavy rain. The storms lit up the sky with lightning and had wind gusts up to 70 mph. It snapped trees and telephone poles in half, which caused a power outage early Saturday morning.
"It was a nasty one," said Rob Culley, Baldwin City power plant superintendent. "That's probably been our third one for us this year. We had a bunch of tree limbs down again. Our public works guys were sawing them off and getting them hauled off today. I guess the good part is it was late at night, so most people probably slept right through it. We came out pretty good, considering the type of storm that blew through here. It definitely could have been worse."
When many local residents awoke Saturday morning, they saw damage from the storm in their yard or in a neighboring lawn. Whole trees and limbs were left for residents to clean up from the storm.
The southeast portion of town may have been hit the hardest. Oakwood Cemetery, located at Third and Orange streets, was full of debris from trees.
"Oakwood Cemetery was a mess," Culley said. "That's where the big tree fell that took the West Gardner feed out."
South of the cemetery on Orange Street, east of Sixth Street for nearly a mile, was closed Saturday. The road will covered in downed telephone poles and wires. Many of the poles were split in half and fell in the road.
From the information Culley gathered Saturday, he said a tree fell on the power line near Sixth and Orange streets, which broke a pole or two in half. That caused the other poles along Orange Street to snap as well.
"It's kind of like the domino effect," Culley said. "Once you snap one and whip the line, it's going to go. I don't know how many poles it took out on the line. It's the domino effect. It depends on the severity and how far it decides to travel before it stops."
The tree that fell at Sixth and Orange caused the power outage overnight. KCPL's West Gardner and South Ottawa feeds come together at the intersection of Sixth and Orange streets.
The power went out around town shortly before 1 a.m. The city's West Gardner feed from Kansas City Power and Light was cut when the tree fell.
Baldwin City crews responded to the outage. The city began generating its own power and continued to until the city could be connected back to a KCPL feed.
"We got the linemen called in here and started bringing our generators online about 2:30 a.m.," Culley said Monday. "We had a little bit of work to do before we could bring the generators up. So the linemen went out and uncoupled the feeders so that we could start.
"We had everybody back online slightly before 3 a.m.," he said. "We ran generation until 8 a.m. when KCPL was able to get enough of the line repaired to tie us back into the emergency South Ottawa feed. We're still on our emergency feed, South Ottawa as of today."
Culley was camping with his family at Melvern Lake Friday night. When the storms rolled through, they took cover in a shelter at the lake. After the storms finished, he headed back home to help bring Baldwin City's power back up for the night.
He was happy the city was able to generate its own power to bring its customers back on line, while surrounding cities and rural residents were still without power as of Tuesday.
"It's a great opportunity to plug the power plant," Culley said. "As of this morning, KCPL still had several hundreds of customers out of service as close as Wellsville and Edgerton. It's nice that we were able to bring out customers back on line as quickly as we possibly could. Overall, it was pretty smooth and seamless. Everything worked like it should."
The city crew's effort was lauded by Mayor Ken Wagner at Monday's city council meeting.
"I'd like to publicly thank our city employees for what I thought was public service at its best," Wagner said. "I was called by Chief (Allen) Craig about 1:30 a.m. and he told me to come downtown. I was impressed that I saw several city employees and fire fighters clearing trees and debris off the roads. Then I went to the power plant and the employees had the engines up and running.
"I know a lot of people in town want to complain about our utility rates," he said. "I think there is a real value to a city-owned utility when you see the situation we had Saturday morning when the power was out. There were some dedicated people who were charged with getting this town back online with power. My hats off to you guys, because that's extraordinary public service."