City council hears request for restrooms at parks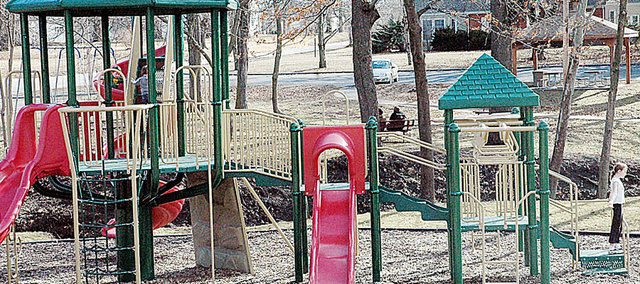 Longtime Baldwin City resident Ginny Honomichl isn't pleased about the lack of restrooms at the city parks and she let the Baldwin City Council hear about it Monday night.
Honomichl, who lives within a few blocks of the park at Third and Fremont streets, told the city council that something needs to be done. She wants a restroom facility built at the park, which is used by many residents and families.
"I'm here because I'm concerned that we have great parks and no potties," Honomichl said. "Many of our parks, especially the one by the city pool, are used many hours of the day by a variety of ages. There are no bathrooms. A lot of people walk around town and there are no bathrooms at the parks. At my age, you have figure out who you know on your route, just in case. I'm very concerned about that."
She went on to say that in her hometown of Russell, they had a city park which had an adequate restroom. She said the facility wasn't the nicest, but it served the purpose and gave people a place to use if they needed while at the park.
Honomichl said none of the city parks have restrooms. She suggested if the city were to build a restroom at a park, they should start at the park by the Baldwin City Municipal Pool.
"I have grandchildren that go with me to the park," Honomichl said. "I know my grandson would go take a whiz in the weeds, but my grand daughter, that's not such a good choice. They shouldn't have to make any choices.
"We need to do something," she said. "We need to start somewhere. Maybe we use that quality of life sales tax and show the people that you are doing something with their money and it doesn't matter what age you are, it can apply to you."
Bonnie Plumberg, Baldwin City Council member, replied to Honomichl at the meeting Monday. Plumberg said a plan to add a restroom is in the works, but there is no timeline for the plan.
"Our economic development committee has just been discussing this and using that tax for that purpose," Plumberg said. "We are looking to get restrooms in the parks. All we're waiting on are the plans. It's on the top of our list. Hopefully we'll have something in the near future."
Mayor Ken Wagner also chimed into the discussion. Wagner said he talked about the restroom situation with former City Administrator Jeff Dingman, who left Baldwin City at the end of May.
Wagner also said the city has around $160,000 in its "quality of life" sales tax fund, which will probably be spent on several projects. Those projects include restrooms at the city parks, sidewalks around town and expansion of the Baldwin City Library.
"We want to start spending that money and satisfy different community needs, instead of putting it all into one project," Wagner said. "We still have a list of items that the community has expressed they want.
"I've said all along that I think it's critical that we show people, who voted for that sales tax, that we are going to spend the money, rather than build a war chest type of account," he said. "We are going to do some things with that money."
Honomichl was happy to hear that response from Wagner.
"I'd appreciate it," Honomichl said. "I know you're taking my money and I haven't seen anything for it. To me this would be something that is visible by anybody in town, out of town visitors, neighbors, walkers, joggers, bikers or anyone. I don't think you're going to strike out with bathrooms at the parks."