Annual Walking on Sunshine 5K run/walk raises $1,000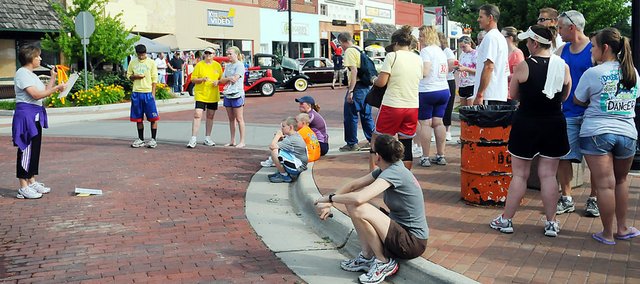 The Walking on Sunshine 5K run/walk has not always been in June and hasn't always been associated with the Planes, Trains and Automobiles event, but it has been raising money for good causes for six years.
Cheryl McCrary created the run/walk in October 2006 after the death of Shana Schroeder-Ebel for a memorial fund in her name. Since then, the runs have been in different months and have taken on other fundraising causes along with the Schroeder Memorial Fund.
In 2009, the first year was the first year of fundraising for an outside cause as donations also went toward sending students on a mission trip to Savannah, Ga.
"You know, it's bittersweet," McCrary said. "Like if I think about why I started. We're missing a good friend of Baldwin, but every year it's just so fun just having a run called Walking on Sunshine where everyone comes and just celebrates. We're really celebrating life, and we're joined together as a community and having just a good time really."
Saturday's race had 68 runners take off at the 8:15 a.m. start time, and between the entry fees, which was $20 for adults and $5 for children 10 and younger with an adult, and other donations, McCrary raised about $1,000.
The money raised went to Allyson's Hope Foundation, for Baker University student Allyson Sass to receive treatment for NF2, as well as the Schroeder Memorial Fund.
"Allyson's Hope of course is near and dear to me because Allyson is, you know, a big part of my family, and so raising money for her medical treatment just seems really natural for this year," McCrary said.
This is the second year Planes, Trains and Automobiles organizer Steve Friend has asked if McCrary's run would kick of the event. McCrary said it worked well and if given the chance, the run will kickoff the event again next year.
McCrary was hoping for 100 participants for this year's run, but liked the partnership between the two events, regardless of the number of runners.
"Whether I have 68 runners or 100 runners, it's going to change every year, but the thing is that those people that do run it, it's a win-win for them and for us and for Planes, Trains," McCrary said. "They're all just downtown. It makes for a just an overall fun event for the whole day."
The run has seen success in past years, but McCrary believes it can even improve next year.
"I feel great and I do think it's even going to get better even next year," McCrary said. "From last year to this year some things really improved with having so much, like the social networking of Facebook and having a walk where we got it out there a lot better this year on Facebook pages and on my website for the Baldwin Athletic Club."