Two local restaurants change names, owners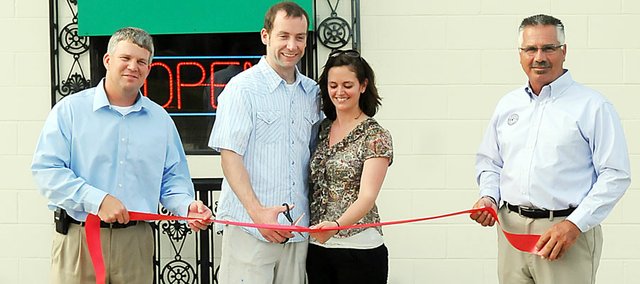 Brent Boyle has worked in the food industry since he was 15 and always wanted to own a restaurant.
Boyle made that dream a reality last September when he purchased Cordoba's Family Restaurant, along with co-owner Jeremy Rodrock, and the two are now making the restaurant their own.
"It was something where I had actually talked with (Rodrock) about it a few times and he's always wanted to do something as well, and then we just came across this and it fortunately worked out well for us," Boyle said. "I've been having a blast for the last six months."
Although the menu remains the same, the restaurant was renamed The Baldwin Diner.
"We kept the prior owner's name, Cordoba, you know, for the first six months just so everybody knew, even though the name and stuff will be different, it's still going to be the same product," Boyle said.
The partners had a contest in the Baldwin school system to select a new name for the restaurant because they wanted the community to be involved in picking the name. Two Baker University media classes also contributed ideas for the website and menu design.
Boyle said he and Rodrock wanted to consider a wide variety of name options before choosing one.
"We wanted it to be something that kind of represented the town and the locals and we thought that was a pretty basic way to do it," Boyle said.
Although the restaurant has been re-branded, work is still to be done to the building itself. Boyle would like to make the back room of the restaurant into a "history of Baldwin room." The front room will be a "Baldwin heroes room," where people who go above and beyond in the community will be featured.
Another Baldwin City restaurant has also gone through a name change in the past several weeks, as The Mélange Apron became Rogue Wave: an Ocean Grill. Shawn and Kelsey Nelson are still owners of the restaurant, but are now joined by Marco Lonergon and Sara Holland.
Shawn Nelson said Lonergon and Holland were looking to own a restaurant and he and his wife were looking for help with the business.
"We took on a couple of partners, managers that really were working the business more day to day and they have more of a seafood background," Shawn Nelson said. "And so they wanted to add some seafood to the menu, and we thought it would just be a good opportunity to, you know, just kind of give a whole new branding."
Nelson said business is usually better when an element of something new exists, but believed business has been better since the change.
"When places first open, there's a lot of fanfare and if you do well and you run your business, well then the fanfare continues," Nelson said. "But I think the business is definitely doing better."
With the new name and logo in place for The Baldwin Diner, the restaurant had a grand opening June 9 to make the changes official.
"It was a lot of work and I knew that there would be bumps, I just wasn't sure what bumps in the road to expect and there are always surprises," Boyle said. "But no, nothing more than I expected. I was always told the first year is a very hard year and I'm lucky to be able to have a smile on my face after six months, so I've been enjoying it."