School board transfers $800,000 of construction dollars to bond, interest fund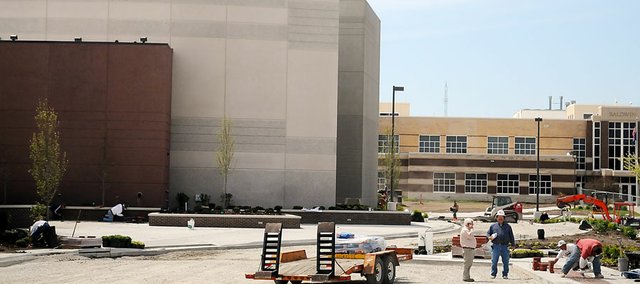 In their final USD 348 Board of Education meeting, the four departing school board members gave a large chunk of money back to the district patrons.
With the November 2008 Bond Issue projects estimated at finishing well under their $22.9 million estimated total, the school board voted to give back some of the bond money. The school board voted 5-2 to transfer $800,000 from its construction fund into the bond and interest fund.
The transferred money will be used to lower the bond and interest mill levy, which dramatically increased after voters approved the 2008 bond issue. The effect on the mill levy will be decided by the next school board, which will be seated in July. That board will include three members from the current school board.
"I'm comfortable with the estimates," Cynde Frick, district director of financial operations, said. "If it were up to me, I think we're going to have $1 million left."
Board members Scott Lauridsen and Josh Mihesuah voted against transferring $800,000. Although they voted against it, they weren't against transferring a large amount of money.
Prior to the final vote, Lauridsen made a motion to transfer $1 million to the bond and interest fund. That motion was voted down 3-4, with Lauridsen, Mihesuah and Board member Ande Parks voting in favor of it.
"Out of the $22.9 million bond, we've done everything we wanted to do and committed to do to a level that I think everybody is happy with," Lauridsen said. "We actually built a $1 million road out of that bond money. To hand $1 million back is the right thing to do. In my mind, it also speaks for the right timing it was to do this with construction costs."
Most of the discussion at Monday night's meeting was focused on the amount to transfer. All of the board members were happy to give some of the bond issue dollars back to the patrons.
"My feeling is this board took on the responsibility of making the decision to pull the trigger on the $22.9 million," Lauridsen said. "I think it's this board's decision on how we give some of that money back."
Superintendent Paul Dorathy and Frick informed board members that they estimate $1.2 million of the bond's construction fund will be unused. Dorathy and Frick said the board has the authority to transfer a portion of that money to bond and interest.
They suggested the board leave a portion of that $1.2 million until all of the construction projects are finished and paid for. Frick said her estimates have been close all along, but changes could happen between now and when the final payments are made.
"If you want to transfer some of that $1.2 million to bond and interest this year, it would help alleviate the mill levy situation in the 2011-12 budget," Frick said. "We definitely know we are going to have funds left. There are some little things that still need to be determined. The question is how much do you feel comfortable transferring at this point and how much you want to save until every dollar is paid."
Dorathy and Frick suggested transferring $500,000 this year and the school board could transfer the remaining amount in June 2012. Dorathy also said he felt comfortable transferring $750,000, but not much more than that amount.
Lauridsen and Mihesuah supported transferring $1 million. However, other board members were not comfortable with that amount.
After the long discussion, the board approved an $800,000 transfer to the bond and interest fund. The board also talked about how much of that money to use in the budget to offset the mill levy, but that decision rests in the hands of the incoming board members in July.
"My suggestion is to not use it all at once," Dorathy said. "If we do that, it will go down one year and bounce back up the following year. I would suggest you spread it out over a few years, but that will be decided by the new board in the next month or two."