Ramie Burkhart chosen as
BHS

senior female athlete of 2010-2011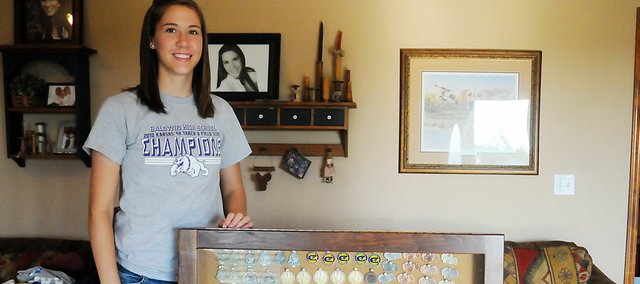 In four years at Baldwin High School, Ramie Burkhart helped bring one program from the depths, nearly reaching the state level in another and won two state championships on her third team.
Those were just some of the team accomplishments that the BHS girls' volleyball, basketball and track teams achieved while Burkhart was in school. Her career was also filled with numerous individual honors on the league, area and state levels.
All in all, Burkhart's career was the benchmark of a three-sport high school athlete. She was a star on an individual level, helped her teams achieve championships and she excelled in the classroom, too.
"I didn't have a favorite sport," Burkhart said. "It was hard for me to choose and cut down my sports once I got to high school. I played soccer and softball, too. I decided I wanted to stick to one sport per season. It was hard to narrow them down, because I enjoyed them all."
Burkhart graduated in May as honor graduate, which means her cumulative GPA was between 3.8 and 3.99. She was one of 31 students to graduate with honors or distinction, which is a 4.0 cumulative GPA.
Although she excelled in the classroom, Burkhart left her mark at BHS in the field of athletics. She played varsity volleyball and basketball for four years and she started for three years on both teams. She also competed at the state track meet all four years at BHS.
Burkhart was an All-Frontier League competitor in volleyball for three years, basketball for two years and track for four years. She was a state medalist in track her final three years.
"I've been doing sports since I was able to as a kid," Burkhart said. "So I had a lot of expectations for myself to succeed in high school. I was excited to get up there and play with the older girls and contribute to the varsity teams as a freshman and sophomore."
Her coaches definitely noticed Burkhart's improvements during her career. They also knew she was an integral part of their team's successes.
"She improved quite a bit," BHS girls' basketball coach Bob Martin said. "She's always been a good athlete, but she grew as an athlete in high school, her confidence grew tremendously. Her skill level grew as she started to focus more on basketball each year. She just really blossomed as a player, as far as being a team leader and the focal point of the team. She really learned to accept that role."
Hurdle superstar
While track might have been the sport that fellow competitors least knew Burkhart for, it produced her best individual and team results. During her four years, she qualified for the state meet four times and brought home five state medals in a pair of events.
Burkhart ran on the Bulldogs' 400-meter relay as a junior and senior. The relay team placed fifth in 2010 and sixth in 2011.
Her main individual event was the 300-meter hurdles. She finished third as a junior, fourth as a senior and seventh as a sophomore. She qualified for state as a freshman, but didn't qualify for the finals.
"I made it all four years," Burkhart said. "I was a bit scared freshman year. It was very intimidating being there as a freshman and it didn't go too well."
Her most memorable race at the state meet was the 300 hurdles finals in 2010. She entered the final race with the No. 7-seeded time from prelims. She moved up four places during the homestretch of the race to earn her highest placing ever.
"I knew there were a couple girls who were in the 45s and the rest of us were in the 47s," Burkhart said. "So I could be third and in the top of the 47s or in seventh and on the bottom of the 47s. I ended up pulling through and placing third. I don't think anybody was really expecting that, including myself. It was very exciting."
Burkhart's finish in the 300 hurdles helped propel the Bulldogs to their first team championship in school history. A year later, the BHS girls were back on top as they tied Colby for the team title. For Burkhart and several other Bulldogs, the team championship was a memory they won't forget.
"It's awesome," Burkhart said. "It was so nerve-racking coming down to the last race both years. It felt awesome to be up there receiving our trophy. It was very exciting and I'm glad I could end my senior year with my second one."
Basketball stardom
Unlike with the track team, a state championship for the BHS girls' team was a lofty goal for the past four years. A more realistic one — which was almost achieved — was a trip to the state tournament.
In 2010, the Bulldogs came a few points shy of heading to Salina for its first state tournament since 1997. Poor three-point shooting, which was rare for the team, doomed BHS as it fell to Basehor-Linwood at the Bobcats' gym in the sub-state championship game.
"We were right there," Burkhart said. "We just couldn't pull it off. We didn't play well in the sub-state championship game. It was very upsetting, but that happens. I just tried to look forward to my senior year and getting there again. Then it happened again. We had fun and I feel like we had a lot of success during the year, even though we didn't make it to state."
Burkhart led the team as a junior with 11.2 points, five rebounds, three assists and three steals per game. As a senior, she averaged 13.5 points and seven rebounds per game to lead the Bulldogs.
Once again aiming for a state berth, the Bulldogs fell in sub-state this winter. They lost to Topeka-Hayden in the semifinals. The Wildcats went on to win the sub-state.
"We had a really tough sub-state," Burkhart said. "We still believed we could get to state. We knew it would be hard. Hayden was a good team and we just couldn't pull it off."
Burkhart started for the Bulldogs during her final three seasons. She played on the varsity team as a freshman, which made her nervous.
"My freshman year, it was a bit nerve-racking I guess," Burkhart said. "I was nervous to play with the older girls. I didn't want to mess things up. So I came in and probably played a bit timid. Then I got used to playing with them and realized I could play with them if coach was putting me into the games. I got a lot more comfortable with the girls and started playing up to my potential."
Coach Bob Martin said her role on the team changed dramatically from her freshman campaign to her sophomore season to her final two years.
"She was kind of a role player her freshman year," Martin said. "From her sophomore year on, she was one of our major players and maybe our best player. She played a big role for us, ever since she's been in high school, but especially since her sophomore year."
He was especially proud of the improvement Burkhart made on the court. Martin said as her confidence grew, she became a better team player and leader. She also became a force on both ends of the court.
"She improved and became a weapon offensively," Martin said. "She really improved defensively. As a freshman and sophomore, it was not one of her strengths, but I thought it was her junior and senior years. I thought she was a very good defender."
Killin' the volleyball
A prowess on the offensive and defensive ends wasn't limited to basketball for Burkhart. She also led the Bulldogs in kills and blocks during her senior volleyball season.
In the fall, Burkhart led the Frontier League with 332 kills, which nearly doubled her total of 171 as a junior. That was the highest of any Bulldog since Emily Brown's total in 2003. Brown went on to play at Kansas University for four years.
"Ramie went from being that shy, quiet freshman that doesn't say a lot to becoming more of a vocal leader as a junior and senior," BHS volleyball coach Kelly Brown said. "She improved a lot. I think a lot of that had to do with what she was doing in the offseason with her club team. I relate a lot of her improvement to that."
As an individual, Burkhart was chosen as a second-team all-league player as a sophomore and junior. She was on the first team at the end of her senior campaign.
She was also instrumental in helping turn around the Bulldogs' program. BHS had won 15 games combined during Burkhart's first three years. Her class, along with the rest of the team, helped the Bulldogs finish the 2010 fall with a 17-20 record.
"I was really happy with our season my senior year," Burkhart said. "I know the program had been struggling. During my first two years, we were struggling to play to five games in a match. By my senior year, we were really close to .500. I was happy we had a lot of girls that took our season seriously and we progressed as a team."
Brown won't forget how Burkhart led the Bulldogs and helped turn the program toward a near-winning record.
"She was part of that class, which got pulled up as freshman, that helped turn the program around," Brown said. "We were two wins from having a .500 season last year. She helped put our program on the map."
Left-handed advantage
While it might not seem like much of an advantage, Burkhart being a natural lefty helped her succeed in sports. She and her coaches admit it helped her offensive abilities in basketball and volleyball, especially early in her career.
"As a freshman and sophomore, a lot of girls and coaches didn't know I was left-handed, so I could use it to my advantage," Burkhart said. "They wouldn't know where I was hitting it in volleyball. It really helped me, because they didn't know me very well.
"Then in my junior and senior years, they started finding out I was left-handed," she said. "Most people are used to guarding right-handed players, so it probably did help me out a bit. I could do different things and get away with a lot more things being left-handed."
Martin said her ability to drive left to the basket made Burkhart a threat on the basketball court.
"Being left-handed is a big advantage," he said. "People unconsciously guard on the right side, because most players are right-handed. Until you knew her a little bit, she took people by surprise when she went to the left. I think it was a huge advantage."
In volleyball, Burkhart was able to use her left-handedness to surprise opposing blockers at the net.
"For her senior year, we made a move and put her as an outside hitter," Brown said. "One of the reasons she was so successful, not just because she was already a good hitter, but because she is left-handed. Other teams had a really hard time playing defense against her."
Burkhart will now take a break from competitive sports. Along with her big three sports at BHS, she played softball and soccer growing up. She would play on club teams during the summer and the school year. In the fall, she will be taking college classes, but no more sports … at least for now.
"It had always been in my mind that I wanted to keep playing," Burkhart said. "Now, I'm kind of burned out of them. I think I'm ready for a break. If I miss them, maybe I can go back and play, but we'll see what happens."