Fathers are focus of annual Planes, Trains and Automobiles event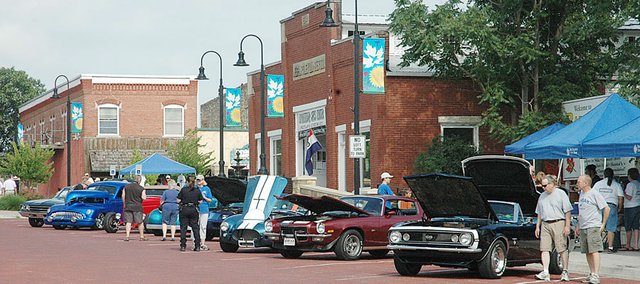 The annual Planes, Trains and Automobiles is taking place on Father's Day weekend, but event coordinator Steve Friend said the events Saturday are catered to every member of the family.
Friend said he has tried to add to and build up the event each year with new activities and has planned new activities for Saturday. Activities will begin Friday night and continue until about 2 p.m. Saturday, but Friend said they have not been able to stretch the event out longer.
"We haven't been able to extend it on Saturdays," Friend said. "We'd like to make it a daylong festival or a day and a half or something like that but we just run out of fuel, you know. It's just hard to keep things going all afternoon."
Not only will most of the activities be on display downtown, including the annual car show, but visitors can also take a train ride from Midland Depot or take part in activities at McFarlane Aviation in Vinland.
The focus will be on fathers, as dads can take a train ride for free when they purchase a ticket for someone else. McFarlane Aviation is also offering a $49, 30-minute introductory flying lesson for dads.
"There's probably a lot of dads out there that have always wanted to fly, but maybe for one reason or another they weren't able to and maybe this way we can get them a little bit closer to their dream of flying," McFarlane sales member Star Novak said.
McFarlane Aviation used to participate in the Young Eagles program during Planes, Trains and Automobiles, where children could get a free flight in an airplane but is shifting the focus to fathers this weekend.
"We think this is a great opportunity to showcase, not only Vinland and not only McFarlane, but the great world of aviation and hopefully someone will be inspired and will start flying lessons and realize the joy that we know in regards to flying," Novak said.
McFarlane will also have unmanned aerial vehicles on display from the Kansas University, as well as aircrafts on display from the Civil Air Patrol, children's activities and lessons and demonstrations.
Other activities for the Planes, Trains and Automobiles event new this year include a Wilbur Wright impersonator, a magician and a remote-controlled car track for children to bring and race their cars. Car and food venders, the Walking on Sunshine 5K run/walk, bicycle rides and horseshoe pits and other activities will also be available.
Friend is hoping the rain stays out of the forecast this year since participation in the car show and motorcycle displays can be determined by the weather.
"We've brought rain the last couple of years. Last year we made it until noon, the year before it was about 11," Friend said. "So, if you want rain mid-June you have a Planes, Trains and Automobiles show."
Novak said they volunteer a lot of time and effort, but are excited for Saturday. McFarlane Aviation began preparing for this year's Planes, Trains and Automobiles event almost a year ago, and Novak is confident this year's event will be a success.
"For me personally, I enjoy seeing the joy on someone else's face when they experience flight for the first time," Novak said. "It's a great feeling, and it's nice to know you're setting somebody upon a path that has no boundaries. Flying can open so many doors for folks and it's just a great opportunity."