Baker's sorority renovates house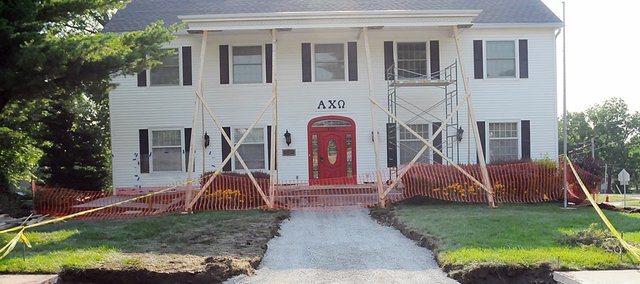 Current members of the Alpha Chi Omega sorority at Baker University are away from Baldwin City for the summer, which makes summer the best time for the sorority house to receive renovations.
Janice Simpson, president of the Alpha Chi Omega house corporation board, said the work includes replacing the cement floor of the front porch, adding new windows and French doors and installing an underground sprinkler system. Simpson said all projects have been in discussion for the past two to three years.
A structural engineer evaluated the house, which is 61 years old, before the projects began to make sure it was structurally strong enough to be making the investments to it.
"We passed with flying colors, were told it was a very sound house for a 61-year-old house," Simpson said. "So, we are making the major investment."
The cement front porch has not been worked on since 1964 and will also become handicap accessible upon completion. The columns at the front of the house were taken off during construction but will be put back as they were before.
The window project has been in the works for the past two and a half years, and last year 38 new windows were installed in the house. Some of the first-floor windows will be replaced this summer, but Simpson believes it might take one more summer to finish the project.
"The windows have been a cash project," Simpson said. "We only put them in when we have the cash to do them and our alumni our paying for them."
Simpson said replacing more than half the windows last year saw a substantial savings in the energy bills for the house this year.
The improvements also include refurbishing areas of the basement and the house's laundry room was remodeled a month and a half ago.
The windows were funded mostly from alumni donations, and a small grant from the national organization, and the corporation board is funded through membership dues from current members and alumni donations.
"We have a very active and involved alumni," Simpson said. "We have about 750 living alumni and we keep in constant contact with them."
Simpson said safety, energy efficiency and the comfort of the sorority members are most important.
"To me, it's critically important to have the house in the best condition we can keep it in and the major reason I'm concerned about that is safety," Simpson said. "Above all else, I am, and our board and our alumni, are interested that this is the safest living environment we can provide, in addition to being attractive."