New
U.S.

Highway 59 in Douglas County to open in late 2012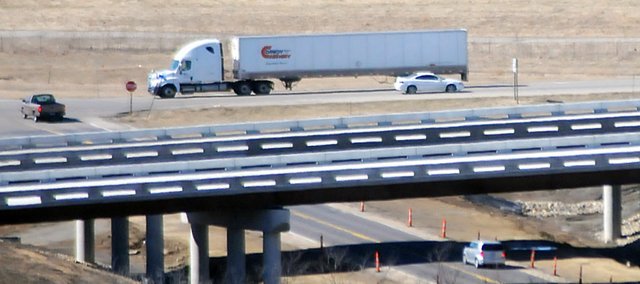 Extension of the South Lawrence Trafficway may be slated to get $192 million from a new state comprehensive transportation program, but another major highway project in the area is accelerating toward completion.
Construction of a new U.S. Highway 59 freeway, from the southern edge of Lawrence south to the Douglas County line, is on track for completion in late 2012, according to the Kansas Department of Transportation.
The four-lane freeway — complete with interchanges, wide shoulders and safe sight distances for drivers — is set to run for 10.53 miles. Already completed and in place are 23 bridges of various forms:
• steel girder, 11.
• concrete girder, 2.
• "haunched slab," or concrete slabs supported by concrete pillars, 2.
• "bridge-sized boxes," which look like concrete drainage pipes but in a rectangular shape instead, 8.
"We're in pretty good shape," said Kim Qualls, a department spokeswoman.
But there's still work to do.
Crews have been busy grading the highway route, which is east of the current U.S. 59. They've already cleared 5.4 million of the 5.6 million cubic yards of material necessary to make way for the new highway and compacted 3.1 million of the 3.3 million cubic yards included in project plans.
Upper Plains Contracting starts work this month on prep work for its $12.1 million job: pouring a concrete surface for the section of highway that will run from the county line north through a new interchange at North 650 Road. That actual paving is set to begin in August and be finished by late fall.
Another section — from North 1000 Road north to where the current two-lane U.S. 59 turns into four lanes at the southern edge of Lawrence — is scheduled for paving later. The department expects to hire a contractor for that job, which calls for asphalt pavement, sometime this fall.
Finishing such work won't end work in the project area. The department plans to spend 2013 addressing its responsibilities for replacing or upgrading sections of the existing U.S. 59 highway, sections of which will function as a frontage road for the new freeway version.
The Douglas County portion of the project is expected to cost more than $100 million. The portion in Franklin County, running nearly nine miles from the county line south to Ottawa, opened a year ago at a cost of $63.5 million.