PBS

show's popularity draws young fans to Baldwin City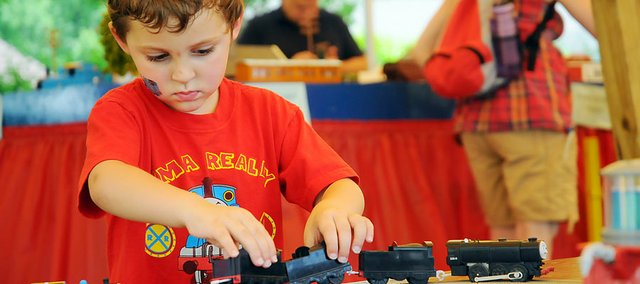 With gas prices hovering near $4 per gallon, Dominic Nave wanted to take his two sons on a short day trip to a town within an hour of their Lee's Summit home.
Nave's 5-year-old son, Carter, found that destination in March. Carter was surfing on the Internet and found Baldwin City was hosting A Day Out With Thomas.
The Nave trio, which included Dominic Jr., came Friday to Baldwin City. They spent a few hours at the Midland Depot with Carter's favorite blue train — Thomas the Tank Engine.
"He is a big fan of Thomas the Train," Dominic Nave said. "He loves all sorts of trains but especially Thomas. He's the biggest fan, but his brother likes Thomas, too. He was online one day back in March and saw that A Day Out With Thomas was coming. So every day, on the third, he keeps reminding me June 3 is coming, June 3 is coming."
The idea of a close day trip sold the idea for Dominic. He enjoyed spending the day with his sons and Thomas.
"It almost feels like a Saturday," the father said. "It's fun to drive an hour away and not spend much. Plus it's fun to spend time with them and do something they enjoy."
The Naves stayed busy during their first trip to A Day Out With Thomas. They bought tickets and rode the 25-minute train ride, took pictures with Sir Topham Hatt, visited the petting zoo and played with toys in the Imagination Station.
"They loved it," Dominic Nave said. "I'm glad we came. This may have to become an annual thing each summer."
They were one of hundreds of families to visit the annual event during the opening weekend. Morgan Brown and her son, Jordan, 4, came to the event from Topeka.
Morgan's mother told her about the event. They also saw it advertised while the watching the PBS cartoon.
"He's obsessed with Thomas the Tank Engine," Brown said. "So, we decided to come this year. We missed it last year, because I missed when the dates were. I think he's more able to understand it all this year anyway."
Although attendance might have been down on Friday from past years, event co-chair Linda Ballinger was pleased with the first weekend of the event.
"It went very well, and we had a constant crowd all weekend," Ballinger said. "There was a constant stream of people, and we had a lot of people on the grounds at different times Saturday.
"Weather wise, things went well, too. It was hot and sticky, but it didn't rain and people here had fun. Everyone seemed to enjoy themselves all three days. We've had lots of positive feedback from many visitors."
The event will continue this weekend, beginning Friday morning and ending Sunday afternoon. The trains depart every 45 minutes, starting at 9:45 a.m. and the last train will depart at 3:45 p.m.
The 25-minute ride costs $18 for anyone older than 2 years of age. Tickets are still available for both weekends. Tickets can be purchased online at www.ticketweb.com or at the Midland Depot on the day of the event.
There is parking at the depot, but there is free parking with shuttle service at the Baldwin Elementary School Primary Center, located at 500 Lawrence Street on the west side of Baldwin City.