Mike Spielman wins 20th state title in 19th year at
BHS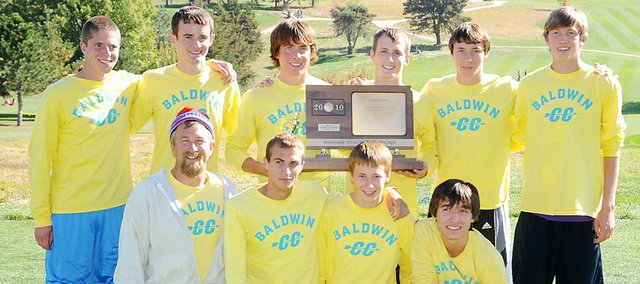 When asked about winning his 20th state team championship last week, Mike Spielman remained his humble self after winning his third track and field title in Wichita.
However, winning 20 state titles in 19 years of coaching is an accomplishment only a few have obtained. During his tenure, the Sabetha High graduate, has enjoyed each championship as if it were his first.
"It just seems like yesterday that it all started," Spielman said. "It's a great thing that all of the kids get to enjoy those titles. It's been over a period of 19 years of being the head coach of one of the sports."
Spielman took over the cross country programs in the fall of 1992 and has been the head coach for the past 19 seasons. He became head boys' track coach in spring of 1998.
His accomplishments have been noticed by many of his former athletes, including arguably his best — Matt Noonan, a 2002 Baldwin High School graduate. Noonan won nine individual state championships and six team titles during his four years.
"For any given coach, to win one state title in their lifetime is a remarkable feat," Noonan said. "To win an average of more than one for every year you've been coaching for two decades is incredible to think about. It means he's spanned five generations of kids through the high school.
"Even if you have one or two studs, they can win your four titles, but it takes a lot to win 20," he said. "To do it on the boys and girls side is a testament to how good of a motivator he is and how good he is at getting kids to come out, stay out and build a fire and passion that spreads to the future kids."
Noonan was part of a talented graduating class that won Spielman's first two track titles. Combined with Eric Black, Eric Brown and Hugh Murphy, the Bulldogs won four events and finished runner-up in a pair as juniors and seniors. Others from that class include Glen Stansberry, Hans Broers, Tyler Inzer and more.
On May 28, the BHS boys' track and field team won its third state championship. However, it was much different fashion than the first two titles.
The Bulldogs didn't win any events. In fact, they didn't finish second in a single event at the state meet. They finished third in five events, fourth in three and seventh in one other event.
"Those years were nice," Spielman said of 2001 and 2002. "This year we scraped and scraped for points. We didn't have a single state champion. We had a great team that battled. We scored in a lot of events and that's what it takes."
On the cross country side, Spielman's Bulldogs have earned a reputation as being one of, if not, the top teams in the state every fall. His boys and girls teams have combined to win 17 state titles and 12 second or third-place finishes in Spielman's 19 years.
"It's almost easier to count how many years he hasn't won a state trophy in cross country," Noonan said. "I can think of about five on the boys side."
Spielman's first state championship came in his second season at BHS. In 1993, the BHS boys brought home the first title in the school's cross country history. The boys followed it up with a pair of third-place finishes in 1994 and 1996 and a runner-up in 1997.
In 1998, the Bulldogs tied Ulysses, but won on the sixth-runner tiebreaker. That title started a streak of eight-consecutive for the boys' team. After the streak ended in 2006, the boys won three trophies before bringing the title back to Baldwin City in the fall.
"I was so proud of the team," senior Joey LaBuda said. "My entire year of school was made. Everyone did such a good job, too, and really worked hard during the season. It was the hardest I've seen us work in my three years, so I knew this was the season to get it. I enjoyed it so much."
While the boys' team was happy to get back on top, Spielman's girls' squad remained on top this fall. The Bulldogs won their fourth-straigh,t and seventh overall, state title.
The BHS girls are tied with Ottawa for the Class 4A record with four girls' cross country titles in a row. The state record for girls titles is seven, which is held by Bishop Miege, who won 5A championships from 1988-1994.
"It felt great to be a part of the history and that it was only the fourth time to sweep both the girls and boys titles," LaBuda said. "It was just a great feeling. It felt great to be part of coach Spielman's success and to give him that, because I know he put so much time into us, so to win that was a nice gift back to him."