High school, college students value summer jobs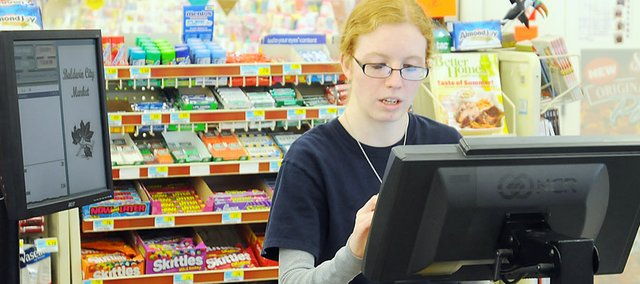 Zach Durr's summer job doesn't even seem like work to him.
As a baseball player at Baker University and native of Baldwin City, umpiring youth baseball and softball games for the Baldwin City Recreation Commission is something Durr naturally enjoys. So much so that Durr has umpired games through the BCRC for the past five years.
"Being a baseball player, I mean, there's really just no place else you'd rather be than a baseball field," Durr said.
The BCRC is one opportunity in Baldwin City for high school and college students to find summer employment.
Brice Soeken, BCRC sports coordinator, has nine Baker University and Baldwin High School students working for him as either supervisors or umpires this summer. Soeken understands why students take the jobs, as he worked as a referee and umpire throughout his college years. Soeken said he always has more applicants than job openings to fill and rarely has to advertise for jobs.
"It's really fun working with the kids and you get to see people in the community every night and it's really neat to see those kids progress and see how many skills they attain just over a couple of months," Soeken said.
The Baldwin City Market is another local business that usually receives more job applications from high school and college students than it can fill. This spring, the store had 30 applicants, with only six receiving one-on-one interviews for positions. Sue Jarvis, assistant manager at the Baldwin City Market, said the store employs about eight high school and four or five college students.
"They want a place that's right here at home and it's easy … they don't need to use any gas to get here," Jarvis said.
The store likes to hire sophomores or juniors in high school so they can work for several years before leaving for college, Jarvis said. However, many will call and work while back for holidays and during the summer.
"Usually we'll fit them in," Jarvis said. "We usually keep our door open."
Because Durr umpires for only a few hours a night, he is also looking for a second job. Durr believes it is important to be able to keep students working in Baldwin, and ultimately that is what he would like to do.
"I'm looking for something around Baldwin, but I mean, if I had like an opportunity in Lawrence or something like that, that would work too," Durr said. "Really, I'd like to stay in Baldwin. Stay close to home."
Durr said despite still looking for a second job, it was reassuring knowing he had the umpiring job waiting for him each summer. Durr also is involved in the work-study program at Baker University, working about 10 hours each week at Collins Library. However, he expects the money he earns throughout the summer to last past the beginning of the school year.
"The summer is pretty much my time that I have to make money to live off during the school year," Durr said.
Jarvis has worked at the Baldwin City Market for nine years and said she has had a great experience working with the students.
"We've learned a lot from them and they've learned a lot from us and they've really brought this store and kept it together for us," Jarvis said. "We really rely on them."