Eighth-grade girls sweep all six league titles at
BJHS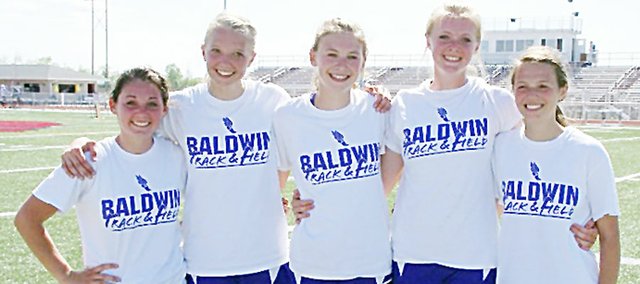 A small group of Baldwin Junior High School eighth-grade girls made history last month with their Frontier League track and field championship.
The most-recent league title was the sixth in two years for the group of Bulldogs. They became the first-ever BJHS team to sweep the league tournaments in volleyball and basketball, as well as the league track meet in seventh and eighth grade.
"They won the big trifecta," BJHS eighth-grade basketball coach Ted Zuzzio said. "It hasn't been done in school history to our knowledge."
Brenda Shawley, who coached the Bulldogs in eighth-grade volleyball and seventh-grade basketball, was ecstatic about the accomplishment of her athletes.
"It's pretty awesome," Shawley said. "We were limited to five minutes in our assembly at the end of the year and it was hard not to keep going and going. These girls are part of a family and they've worked really hard together."
Heading into last month's league track and field meet, the group of Bulldogs knew they could make history. The thought of sweeping the six league championships was in their minds.
"We were all nervous, because we weren't sure if it was going to be our sixth championship," BJHS eighth-grader Corey Valentine said. "We didn't want Louisburg to beat us, but we knew it had been close in the other sports with them."
Teammate Jordan Hoffman agreed.
"We had the expectation that it was going to be our sixth win in a row and we kind of need to get it," Hoffman said. "We wanted it more than the other teams did."
With only 11 girls on the entire roster, the BJHS eighth-grade girls won their second league track and field title. While they may have had fewer participants than other schools, they managed to hold off Louisburg by seven points for the win.
The Bulldogs won four events and placed in the top three in six other events throughout the meet. The accomplishment of winning with few numbers didn't go unnoticed by their coach.
"Our eighth-grade girls did phenomenal," BJHS track coach Angie Spielman said. "We had only 11 girls competing and only eight scored. They were doing event after event and it was incredible that they could win."
During their eighth-grade basketball season, the group of 10 Bulldogs went 10-3 and 5-2 in league action. They played well on the final day of the league tournament, beating Spring Hill and Paola.
"This class only had 10 girls out in track and they still won league," Zuzzio said. "That's what was amazing. They were low on numbers, but high on quality. That was the biggest girls team I've coached in 34 years, as far as height. They are bigger than any high school team I ever coached."
In the fall, the BJHS girls became the first team to win back-to-back league volleyball titles. They also became the most successful eighth-grade varsity team in Shawley's 11-year tenure. BJHS finished the season 20-1 and 15-1 in league play.
The Bulldogs won all eight matches at the league tournament. They didn't allow any of their four opponents to score 19 points. They crushed Louisburg 25-15, 25-11 in the championship.
"It's like the old saying, it's not quantity, it's quality," Shawley said. "That's what it is with this group of girls."
As seventh-graders, the group of Bulldogs narrowly won their first league track and field title. They beat Louisburg in the last race of the day, 1,600-meter relay, to win the team championship by one point.
In basketball, the Bulldogs avenged a previous loss to Louisburg in the title game. They beat the Wildcats, who were previously unbeaten, 29-24 to finish the season 13-2 and 6-1 in league.
During their first volleyball season, the group of Baldwin girls allowed no more than 18 points a game in the league tournament. The Bulldogs rolled over Pioneer Ridge, Spring Hill, Wheatridge and Ottawa to win the league crown.
"We didn't have very many girls in any sport," Valentine said. "It's pretty amazing that we actually won them all."
Five of the girls participated on all three varsity teams. They were Hoffman, Maddie Ogle, Valentine, Sierra Hall and Emma Stewart.
"It's going to be exciting to see what they can if they stay together in high school," Shawley said. "They will give it their best shot. It's been neat to be a part of their lives."