Community theater ready to transform downtown to 'Wonderland'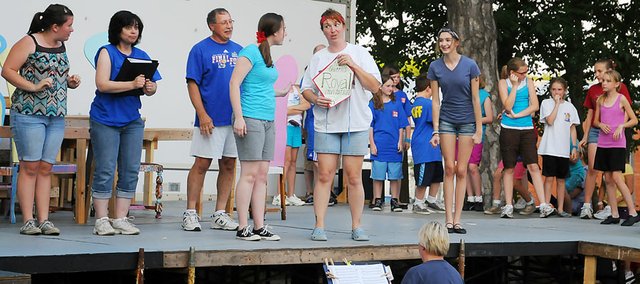 The lot next to the Baldwin City Post Office is being transformed into Wonderland.
The transformation is for Baldwin City Community Theater's presentation of"Alice the Musical," an adaptation of "Alice in Wonderland."
MJ Mingus, who is in her second year directing summer plays with the BCCT, is directing about 60 cast members, ranging from third-graders to adults.
"This truly is a family community theater," Mingus said.
The play was selected and auditions took place in early May. The cast has been working outside for about a week and a half, but has been rehearsing songs since the end of May.
The musical is a British version of "Alice in Wonderland" Mingus used after having trouble finding an American version that used instruments other than a piano. Drums, a flute, clarinet, keyboard and possibly guitar will all be used in the play.
"We've had people come up from Texas to visit and see the shows, and they said they can't believe the talent in this little-bitty town," Mingus said. "I mean it's really wonderful talent here."
Mingus said the past week's rain has caused a slight delay in the stage being built, but she is comfortable with where the cast and crew are at in the process.
"We just pray for good weather to get everything done," Mingus said. "I think we're in pretty good shape. It helps when you get on stage because then they begin to understand a little more about it. And then of course each night there's more progress on the set."
Madeline Miley has the lead role of Alice. Miley has participated in the BCCT summer plays before, but has never in a role this big.
"I am nervous, but I'm very excited for it," Miley said. "It will be a lot of fun."
Miley is actually one of two Alice characters cast, the other being Josie Boyle. The plot of the play centers on The Rev. Charles Dodgson, played by Ted Marsh, telling young Alice Boyle, the story, while the narration is being acted out behind them. Other characters include Marion Constantinescu as the Mad Hatter, Stephanie Peterson as the White Rabbit, Joe Bathke as the Caterpillar and Shelly Todd as the Queen.
Mingus, who is also the costume designer, is designing around 130 costumes that will be bright and colorful, but the set will be mostly black, gray and white.
"Last year's show was Suessical (the Musical) and there were bright costumes, bright set," Miley said. "Now we have a gray set and bright costumes, so I think that will definitely get the audience to be able to pick out what parts are popping at you, and I think it'll get them involved in it."
Three dress rehearsals will take place Sunday, Tuesday and Wednesday before the show debuts at 8 p.m. June 16. Other show dates are at 8 p.m. June 17-19 and June 23-25.
Although nervous, Miley is excited for the show the cast has worked for a month to produce.
"I feel we're pretty good on track," Miley said. "Once we get the stage completely constructed and the props up, we should be in full swing, but right now where we're at — we're doing great."