Thomas the Tank Engine to begin annual run Friday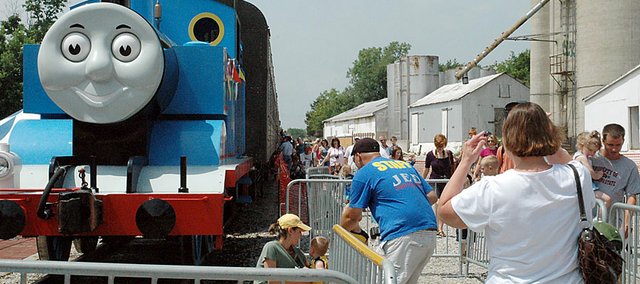 June has officially arrived, which means it's time for the famous blue train, Thomas the Tank Engine, to stay in Baldwin City for the next two weekends.
The cartoon character and his friends will attract thousands of families to the Midland Railway Depot.
"This is our 10th year we've had Thomas," Ballinger said. "That is a nice milestone. We have new kids every year who haven't seen him before and they love to see him. It's a Baldwin thing, just like Maple Leaf. We have new people or groups who get involved every year."
Rides will be available Friday, Saturday and Sunday and June 10-12.
The visiting Thomas the Tank Engine is a life-sized replica of the PBS character. Children and families can ride on the Midland Railway passenger car. The 25-minute ride costs $18 for anyone 2 years of age or older. Tickets are still available for both weekends. Tickets can be purchased online at www.ticketweb.com or at the Midland Depot on the day of the event.
"We are expecting a good crowd," Ballinger said. "We'll probably have a few more walk-ups than we've had in the past, because people might make late plans since gas prices are so high. We're optimistic that we'll have a good crowd this year."
Weather also plays a factor in how many visitors Thomas has each year.
"It's supposed to be hot this weekend," Ballinger said. "We hope it doesn't rain, but we'll be here rain or shine."
Organizers have moved some of the tents this year in response to last year's rain. The large activity tent is turned 90 degrees from its usual spot with a hope of avoiding a replay of last year's mud problems.
"We have a whole new set up this year," Ballinger said. "It's not set up like it has been in the past. We're try to keep things as dry as possible if it rains."
While the train rides are the most popular activity at the Day Out With Thomas events, there are plenty of other forms of entertainment on site. There are storytellers, temporary tattoos, a magician, inflatable slide and bouncer, straw maze, Imagination Station activity tent and photos with Sir Topham Hatt.
Along with the numerous activities, there are also food vendors and the merchandise tent on the event grounds. Ballinger hopes local families come enjoy the day with Thomas, even if they don't ride the train.
"You don't have to come out and ride the train," Ballinger said. "There are plenty of activities out here that are free. We'd like more local residents to come out and enjoy the day. You can spend half of the day out here and not spend any money at all."
The first train departs at 9:45 a.m. and the last one at 3:45 p.m. each day. The train departs every 45 minutes. Visitors are encouraged to arrive an hour before their train departs.
The Midland Depot is on the west side of Baldwin City, near the grain elevator and Baldwin City Municipal Golf Course. There is parking around the depot, but visitors are encouraged to park at the two elementary schools off of U.S. Highway 56 and Lawrence Street. Free shuttle service will be provided to those parking at the elementary schools, which are near the ball field complex west of town.
Volunteers are preparing the depot this week and they hope it stays dry.
"The last three days are very busy," Ballinger said. "We hurry to get everything ready and then wait for Friday morning."