Social atmosphere enhances Bulldog Days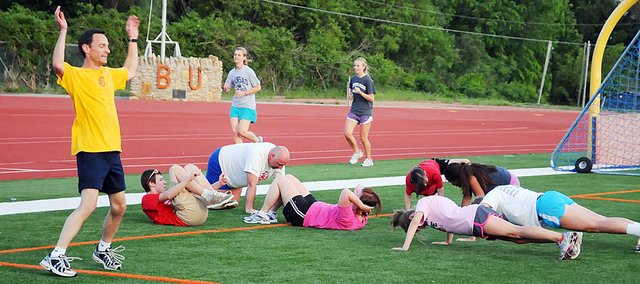 Tony Brown says he could go to the gym or for a run to stay active, but he has a different form of exercise he enjoys more.
Brown is beginning his fourth year of participating in Bulldog Days and said he preferred attending the community workout program because of the social aspect.
"It's just a whole lot more fun to exercise when you're with a group of people," Brown said. "And so the social aspect of it makes the exercise routine just a whole lot easier to do."
Bulldog Days organizer George McCrary expects more Baldwin City community members to participate in Bulldog Days as the summer continues, even though he has been impressed with the high numbers so far.
"Typically our numbers are low in May, and we expect them to get bigger in June and July and August," McCrary said. "So, you know, with our big numbers in the beginning, we were kind of surprised with that, but I would anticipate they're only going to get bigger."
This spring marks the beginning of the eighth year for Bulldog Days, and this year the workout program is again free to the public. McCrary said only about 100 people participated in Bulldog Days last summer, when a fee was charged, but 121 participants showed up for the two sessions of this year's first workout day.
"I think that's why the numbers are so big because people can come and it's not like this is just for the elite athlete, this is for everybody," McCrary said. "This is for the whole family and I think that allows a lot of families to come."
The workout times for Bulldog Days are at 6 a.m. and 8 p.m. Monday through Friday at Liston Stadium. McCrary's wife, Cheryl, keeps track of attendance and those who attend 25 workouts receive a free T-shirt.
Brown knows all about the T-shirts, earning one each of the past two years.
"Let me tell you, people wear those T-shirts really proud," McCrary said. "There's no monetary value there, however, nothing is free. You've got to earn it."
This is the first year Antoniyo Solomon has participated in Bulldog Days, but said he enjoyed the environment and it sets a good example for his children.
"I just think it's more about the atmosphere than anything," Solomon said. "That you have a lot of ex-athletes out here and, you know, it motivates your kids. They get to see their parents working out, so they grow up with a healthy attitude and, you know, and it's just handed down."
McCrary said he and the Baldwin City Recreation Commission, which sponsors Bulldog Days, were trying to promote a healthier lifestyle, and he appreciated the involvement from the community.
"Community wellness, I mean, it's no longer just slang," McCrary said. "It's no longer just something that, you know, people just talk about."
Brown said he wanted to get the word out about Bulldog Days and that all can attend and participate in a workout they are capable of doing.
"That is the best part of it, that is it is not geared toward a certain age group or certain athletic ability. That it is really anybody who wants to come," Brown said, "and they can go at their own pace and just be active for 30 minutes a day."