Sacrifices remembered during Memorial Day service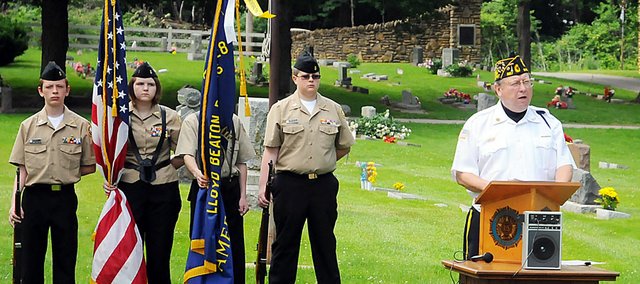 The sounds of a bell rang throughout Oakwood Cemetery Monday morning, with each ring paying tribute to a veteran who had died and was being remembered.
One by one, those in attendance at the Memorial Day ceremony at 10 a.m. Monday at Oakwood Cemetery were given the opportunity to ring the bell once for a veteran family member or friend they wished to recognize.
"It's real important, and we can really tell by the ringing of the bell how important it is for everybody," said Tim Russell, who led the ceremony Monday.
Nancy Cassity is a member of the American Legion Riders Post 407 out of Lenexa but grew up in and now lives south of Baldwin City. Cassity was among those who rang the bell. Her father, a World War II veteran, is buried in Oakwood Cemetery.
Cassity said the recognition of those in the military through the bell ringing is honorable and respectful. She added hearing the names of people she has known through growing up in Baldwin City helped "to really start realizing how each and every family is definitely touched and affected by military service."
The bell ringing was only part of the ceremony as several dozen Baldwin City American Legion and community members gathered to honor deceased veterans Russell was glad to see the crowd.
"I'm just glad as many people did show up to help remember the sacrifices that the veterans have made," Russell said.
The ceremony included prayers from Baker University Minister Ira DeSpain, a speech by Chuck Shoemaker, member of the American Legion Post 370 in Overland Park, and the bell ringing and taps.
Russell said along with the ceremony, members of the American Legion post placed nearly 500 flags at four or five local cemeteries Saturday morning, which were then taken down Monday night.
While Monday is a day designated to honoring those who have died, more could still be done, Cassity said.
"I don't think, no matter what you do is ever going to be enough of an honor for them."