Mile relay propels
BHS

girls to team title for second straight year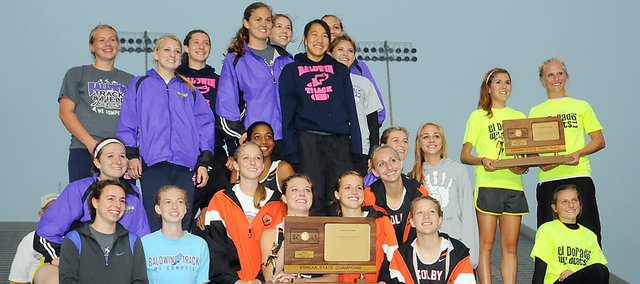 Wichita — Colby High's Emilea Finley did her best to avenge last year's loss to Baldwin High School here last weekend.
Finley, a junior at Colby, was narrowly beaten by Baldwin's JaBryanna Wellington at the finish line a year ago. The BHS victory in the 1,600-meter relay gave the Bulldogs the Class 4A girls' team state championship a year ago.
This year, Finley scored 28 individual points in her three distance races. She also anchored Colby's 1,600 relay in the final event Saturday. Baldwin would once again beat Colby and earn a team title.
"We had to win the 4x400," coach Ted Zuzzio said. "That's all we could control. We couldn't control the rest of the race."
The BHS girls' relay won the race in a time of 4:04.96, while Colby finished sixth in 4:11.61. The eight-point difference in score helped Baldwin catch Colby in the team standings.
Baldwin and Colby tied with 41 points each. El Dorado finished third with 34 points.
"It was exciting how we won this year," Zuzzio said. "It was a total team effort. We had to win the mile relay. Everyone stepped up and competed in all of their events. We had a perfect season. I'm so proud of the girls. They did Baldwin proud."
The girls on the Bulldogs' squad were also excited to win the state title, even if they tied for first place.
"I'm on cloud nine right now," senior Lyndsey Lober said. "All of that hard work was worth it. It's second best to having our own title. But it's just like having my name on that board. I'd rather have my name on the board with someone than not have anything at all. Likewise, I'd rather share a state championship than not have it at all."
Lober was on the Bulldogs' team that won the state championship a year ago. However, she tore her ACL during the middle of May 2010 and was unable to finish the season. She admitted this felt like winning her first state title.
She wasn't the only who enjoyed their first team title Saturday. Those Bulldogs were freshman Hannah Hutton, freshman Morgan Lober, freshman Katie Jones, sophomore Elena Watson and sophomore Jessie Katzer.
"It's a great way to end my sophomore year," said Watson, who switched from playing softball as a freshman to running track as a sophomore. "It gives us something to look forward to next year."
Of course Zuzzio was thrilled to win back-to-back state championships. He won his first title a year ago after 34 years for coaching. His Bulldogs finished first as a team every meet this year.
"It just keeps getting more exciting," he said. "We've now won back-to-back titles. We waited until the end of the meet, in the mile relay, to make it happen. These girls were incredible. This year, we scratched for every point we got. What's really outstanding is 10 of the 11 girls that competed won medals. We brought home 18 medals, which is a lot of medals."
Baldwin's only victory of the weekend came in the 1,600 relay and its only runner-up finish came in the 3,200-meter relay. The 3,200 relay ran 9:57 and finished second to Holton. The relay members were sophomore Kaitlyn Barnes, freshman Hannah Hutton, junior Carol Whaley and M. Lober.
"With the team we had, we ran a great race," Barnes said. "We gave it our all. To finish second at state is really awesome. We'll all be back next year."
BHS also medaled in seven events on the track and in the field throughout the weekend.
M. Lober was Baldwin's lone third-place medalist at the state meet. She ran 59.78 in the 400-meter dash, which included three other freshmen.
"She ran her last 10 400s all under 60," Zuzzio said. "She ran incredible all season and finished it with a nice third-place medal."
Despite her top-three finish and another race under 60 seconds, the Bulldogs' freshman was disappointed with her finals race, despite running the third-best time in the prelims.
"I wasn't happy after the race, because it wasn't a good time on my part," Lober said. "I've been running 58s. It's only a second, but it's a lot on my part. It feels worse to me. However, third at state as a freshman is pretty good. I'll take it."
Senior Ramie Burkhart and Barnes finished fourth in their individual races Saturday. Burkhart ran the 300-meter hurdles in a personal-best time of 46.XX and placed fourth.
"I ran my best time ever in prelims," Burkhart said. "I was disappointed I couldn't come out in finals and run the same time or better. I knew there were two girls that were pretty far out there. Then there were the rest of us. I'm satisfied with fourth, I guess."
In the 800-meter run, Barnes improved on her sixth-place finish a year ago. She placed fourth this year in a tightly-contested race between the top four competitors. Barnes ran 2:20.75 in her race, which was less than two seconds from Finley, who won the race.
"I'm happy with it," Barnes said. "It's a great time for me. It's definitely better than last year and I was more consistent throughout the meets this year. I was happy with my race."
Other top performances came from the BHS 400-meter relay team, senior Allison Howard and sophomore Monica Howard. A. Howard finished fifth in the discus with a mark of 119 feet, 7 inches.
Her sister placed fifth in the javelin, throwing 117-2, and she cleared 5-0 to finish seventh in the high jump. M. Howard earned her first two state medals Friday.
"Monica brought home her first two medals," Zuzzio said. "She competed extremely well. Her sister Allison takes home medals in the discus four years in a row. That was impressive."
In the 400 relay, Baldwin finished eighth in the prelims to sneak into finals. On Saturday, the Bulldogs finished sixth as they ran 51.25. The relay members were L. Lober, Watson, Burkhart and senior Samantha Meisenheimer.
"We're glad we moved up a couple more places in the finals," Burkhart said. "It was nice to medal again and get team points."
In the end, each team point counted toward the 41 points and helped the Bulldogs tie Colby. Zuzzio is already thinking about next spring and what could happen.
"It's pretty special to win back-to-back championships," he said. "We'll see if we can pull off the trifecta next year."