Martha Harris receives Baker University's Kopke Award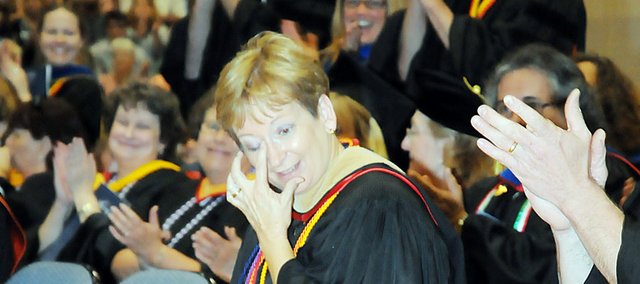 Martha Harris, professor of business and economics at Baker University, received the Jennie Howell Kopke and Verda R. Kopke Award for Distinguished Teaching during Sunday's commencement ceremonies at the Collins Center.
The award recognizes a faculty member, without regard to rank or years of service, who has a record of excellence in teaching and in transforming students into scholars, who brings honor to the University and who exhibits good moral character. Recipients also receive a $5,000 cash award.
"It was a wonderful surprise and a tremendous honor to receive the Kopke award," Harris said. "I feel humbled to be included with the colleagues that have been recognized in this way, and would like to express my sincere thanks to Mr. Kopke for his generosity in creating this award for Baker's faculty."
Charles Kopke, a longtime supporter of higher education, established the award in 1998 to honor his mother and late wife.
Previous winners of the award are Karen Exon (1998), Anthony Brown (1999), Lee Green (2000), Rand Ziegler (2001), Inge Balch (2002), Darcy Russell (2003), Tracy Floreani (2004), John Richards (2005), Ryan Beasley (2006), J.D. Parr (2007), Cynthia Appl (2008), Cal Cink (2009) and Jacob Bucher (2010).