BHS

teams' perseverance pays off with state titles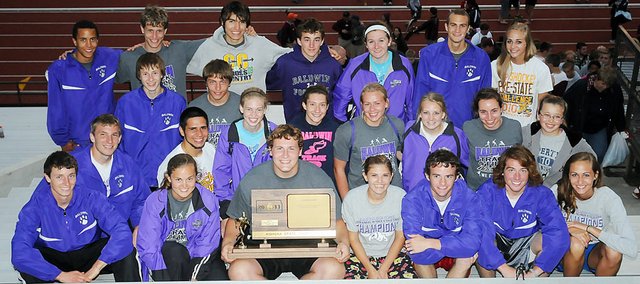 Wichita — Mike Spielman and Ted Zuzzio didn't draw it up exactly right a year ago, but their vision came true here Saturday despite setbacks during the past 12 months.
Both Baldwin High School track and field coaches endured students transferring during the middle of the year, students quitting the team, illnesses and injuries, some of which happened to returning state medalists, during the past year. Needless to say, it's been an up and down year for the Bulldogs.
However, they persevered all spring and continued to work toward their goal. On Saturday, both teams reached that goal. The BHS track and field teams earned Class 4A state championships.
"We battled through so much this year with injuries and other things, but these kids worked so hard and they believed they could do it," BHS boys coach Mike Spielman said. "They didn't get down about things and they kept getting better and better every meet. Then, we won league, regional and state."
Winning the titles all by themselves would seem too lucky for these Bulldogs. They both tied for the state titles. The boys' team tied with Louisburg with 43 points, while the girls' squad tied Colby with 41 points for the crown as best team in 4A.
"It's unusual that we both won in the same year," BHS girls coach Ted Zuzzio said. "We both won on the last race, and we both won by tying another team. It was very unusual."
In 2008, Leavenworth and Olathe East tied for the 6A girls' titles. That same year, Andale and Andover tied for the 4A boys' crowns.
"It's kind of a different feel to it," Spielman said. "We've never tied, but we're still state champs. We are sharing it with someone, but we're still champs."
Tie or no tie, the BHS athletes and coaches were ecstatic Saturday evening at Cessna Stadium. Recalling all of the hardships over the past months made them appreciate the championships even more.
Arguably, the most painful setbacks were injuries. Sophomore Katie Kehl was lost for the season when she tore her ACL in the final minutes of the BHS girls' sub-state basketball finale.
Kehl was to be the leading returning points scorer from the Bulldogs' 2010 state championship team. She finished second in the discus and third in the shot put behind two seniors in both events as a freshman.
"When she went down during sub-state basketball, it was crushing," Zuzzio said. "It was like losing Lyndsey (Lober) last year before league, regional and state. You feel so bad for her, because she loves track."
On the boys' side, no Bulldogs were lost for the season with an injury. However, Tony Weiss' senior campaign was nearly lost with a leg injury he suffered early in April. He rested for several days and practiced light for many weeks, but the injury never fully healed.
Weiss entered his senior year as a three-year state medalist in the distance running events. He finished runner-up at the state cross country meet and hoped for a solid track season. He qualified for state in the 3,200-meter run and 3,200-meter relay, but his times weren't close to those of past years.
"That was probably the one that hurt the most," Spielman said. "He had three medals at state last year."
Other small injuries popped up throughout the year for the Bulldogs. On the boys' side, senior Josh Hoffman hurt his hamstring before the first meet and wasn't able to finish the season. Freshman Chad Berg, who filled in for Hoffman on two relays, hurt his hip in April. He returned to run on the 400-meter relay at state, but couldn't do his normal array of events.
Baldwin High's boys' team also dealt with students transferring to area high schools during the middle of the year. Junior Dayshawn Berndt went to Lawrence Free State at semester, and junior Chip Kueffer transferred to Gardner-Edgerton after the opening meet.
Kueffer was on the Bulldogs' 3,200 relay and was one of the faster legs before leaving Baldwin. Berndt had two solid years of sprinting, but injured his leg during the 2010 regional meet. He was expected to have a great track season but moved to Lawrence.
"When the year started, I thought that we had a chance," Spielman said. "It was one of those things where all of these things started happening. I kept thinking we were OK and we would overcome those things. The kids did a really good job, and they never made excuses. They did say it would be nice if so and so was with us, but they kept working hard."
The BHS girls' team remained mostly healthy all season. However, one senior, who medaled in two events last year, left the team after the Frontier League meet.
Senior Lyndsey Lober's fall in the prelims of the 100-meter hurdles at regionals was tough on her and the team. She was expected to place high in the event at state.
"We lost Lyndsey in the hurdles at regional," Zuzzio said. "Then a girl that she beat at Wellsville wins the state meet."
Another loss for the BHS girls' team was junior Elizabeth Sigvaldson. She became ill during a meet midseason and went to the hospital. She took time off, but came back to run at the league and regional meets in the 400-meter dash.
Sigvaldson was an integral part of the Bulldogs' 1,600 and 3,200 relays during her first two years at BHS. She helped the relays win two state title and two runner-up finishes.
"Losing Elizabeth Sigvaldson was tough," Zuzzio said. "She's a great competitor and she's been on the state champion relays the last two years. She had some adversity to deal with this year. We had different things happen that were out of our control."
Despite the hardships and setbacks, the BHS track and field teams left here with two championship trophies for the first time in school history.
"We've all been looking forward to winning a state championship since winter," Wright said. "We put in all of the hard work, and it's nice to see it pay off."