Battle of Black Jack anniversary events scheduled for weekend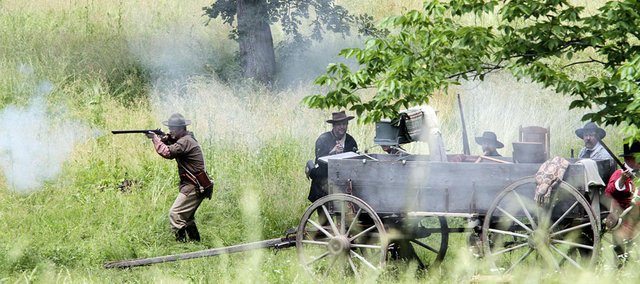 Four events organized by the Black Jack Battlefield Trust will commemorate the 155th anniversary of the Battle of Black Jack. At 5 p.m. tonight, the actual date and time of the battle, a free, guided tour will be given.
At 7 p.m. tonight, "Shared Stories of the Civil War: John Brown Martyr or Madman," a program of the Kansas Humanities Council and sponsored by Freedom's Frontier National Heritage Area, will be presented at the Lumberyard Arts Center, 718 High Street, Baldwin City. Admission is free.
On Friday, an 1856 Lamplight Camp Tour will be available at the battlefield site three miles east of Baldwin City (a quarter mile south of U.S. Highway 56 on East 2000 Road). Reservations are required for the tour, scheduled for 8 to 9 p.m. at a cost of $15 per person and can be made online at www.blackjackbattlefield.org.
On Saturday, begin the day by hearing from John Brown at 10 a.m. on the Black Jack Stage. Brown is portrayed by Kerry Altenbernd, a third generation native of Douglas County, Kan., who has performed first-person interpretations of John Brown since 2006.
"I enjoy portraying John Brown and I've done it a lot out there," Altenbernd said. "I haven't been on stage, so that should be interesting this year."
Re-enactors from around the nation will participate in three re-enactments of the Battle at Black Jack at 11 a.m., 2:30 p.m. and 5:30 p.m. on the actual site of the battle. Gates open at 9 a.m. Admission is $8 for adults & $1 for children ages 3-12 and can be purchased in advance at www.blackjackbattlefield.org or at the gate, which gains admission for the entire day.
"Last year's was great," Altenbernd said. "This year should be even better since we know what we are doing this year. We thought there were a few problems, sound for one, so we've improved that significantly. We are really excited about it."
Shane Seley, of Wide Awake Films, Kansas City, MO, www.wideawakefilms.com, coordinates the re-enactment of the battle. Seley, a filmmaker specializing in stories of the Civil War, is a re-enactor and he is assisted by Thom Weik, a re-enactor from Lawrence. The battle will be introduced by Altenbernd, portraying John Brown as he appeared just before his hanging at Harpers Ferry.
See a Wide Awake Films production about the event at www.blackjackbattlefield.org. Video footage can be obtained by contacting Shane Seley, Wide Awake Films at (816) 872-3456 or shane@wideawakefilms.com.
Diane Eickhoff, an independent scholar from Kansas City, Mo., will portray Clarina Nichols. She is the author of Kansas Notable Book, Revolutionary Heart: The Life of Clarina Nichols and the Pioneering Crusade for Women's Rights.
Fred Krebs will portray Stephen A. Douglas, who wrote and introduced the Kansas-Nebraska Act, which opened the territory to organized migrations of pro-slave and anti-slave groups. Krebs has been a professor in the social sciences and humanities division at the Johnson County Community College in Overland Park for 39 years. He is a prolific public speaker on subjects ranging from Dead Sea Scrolls, women in American history, African-American history, leadership and community, foreign policy, arts and literature, and film studies.
"These are professional reenactments," Altenbernd said. "They hand-make their own clothes and use the threads that were used at the time. They have weapons that were replicas of what was used in the actual battle. No one gets on the reenactment squad without being completely looked over for accuracy. These people look exactly like the men who were back in that time."
For the 21st century visitor, plenty of good food and drink will be available. Additional attractions at the event include demonstrators of such things as basket making, spinning and blacksmithing, in addition to the James Country Mercantile from Liberty, Mo., and activities for children. Visitors can walk through the encampment of re-enactors to see historic weapons demonstrations and hear Civil War music.
The Black Jack Trust is a non-profit membership organization with a goal to preserve, interpret and maintain this important piece of history and natural Kansas landscape.