Baldwin City pool opens after repairs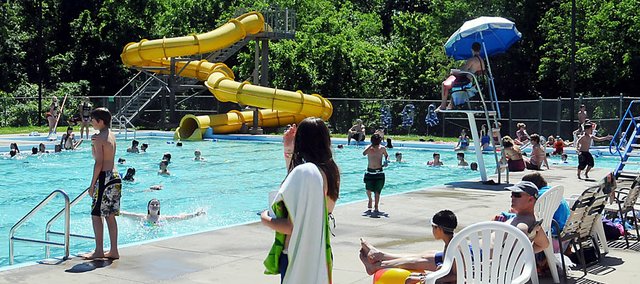 People wanting to be the first to take a swim in the Baldwin City Municipal Pool had to wait longer than expected, but were able to swim for the first time Monday afternoon.
Steve Friend, Baldwin City Recreation Commission Director, said the opening day for the pool was originally scheduled for Saturday, but was pushed back to 12:30 p.m. Monday because of repairs to the pool. Bubbles had appeared on the surface of the pool and took longer to repair than expected.
"They put a surfacing on the pool, oh many years ago, and that thing bubbled on us. … It turned out the problem kept growing," Friend said. "It was more of an issue than they thought."
New ladders were also installed in the pool and were the only other physical change to the pool over the winter.
Friend has been pleased with the attendance the past couple of years and is hoping this year is no different.
"We're expecting a good crowd. You always hope for a good summer," Friend said. "You know, if it's hot, that helps us."
The pool will be open through Aug. 17, but then will be reopen from 6-7 p.m. Aug. 19 for a final time where visitors can bring their dogs to swim. Monday was a free admission day, and the final day, on Aug.17, will also have free admission.
Other free admission days are Military Day on June 14, where people with a military ID will get in free, Mother and Father's Day on June 19, where parents receive free admission, July 4 and Grandparents Day on July 10, where grandparents get in free.
The time for the adult lap swim was changed to will begin at 6:30 a.m. this summer, instead of 7 a.m., and run until 9 a.m.
"That was very popular last year and my managers would show up at (6:45 a.m.) and people were there waiting on them," Friend said. "And some people need to do their workouts so they can go on to work."
Morning and evening water exercise classes will also be offered from 8-9 a.m. and 7-8 p.m. on Mondays, Wednesdays and Fridays. The pool when then be open to the public from 12:30-8 p.m. Monday through Saturday and 12:30-6 p.m. Sundays.
Friend said he isn't sure if it was because of the economy and people were staying home more, but the pool got a lot of use.
"This pool is open a tremendous number of hours," Friend said. "There's just not much down time at all."