Wine and Brew Festival raises money for
BCRC

scholarship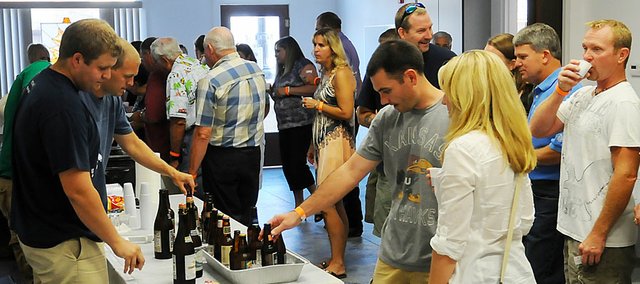 Baldwin City residents spent Friday night at the Lumberyard Arts Center sampling a variety of wine and beer and raising money for the Baldwin City Recreation Commission's Scholarship Fund.
BCRC Administrative Assistant Debbie McCullough said the BCRC sold about 82 tickets for Friday's first-ever Baldwin's Wine and Brew Tasting Festival event, with about 75 percent of the tickets being sold in advance. Tickets were $8 in advance and $10 if bought at the door.
"I was hoping for around 75-100 people, so I was pleased for the first time, your first year that you ever try and do something," McCullough said.
After covering expenses from the event, the BCRC raised about $350 at the event. That money will go toward a scholarship fund.
Participants were able to have 10 samples of a variety of wines and beers, which were supplied by JBC Liquor. The festivities also included food from Mr. Goodcents and music from the band Clear.
McCullough said she came up with the idea for the wine and beer tasting after looking through activities other cities had tried and thought this was something new that could bring people together and have fun.
"Everyone said they had a good time and enjoyed themselves and we had some supporters over at the art center that were there and they were glad to see that we were using the building and bringing people downtown," McCullough said.
State Rep. TerriLois Gregory attended Friday's event. She did not sample the drinks but enjoyed viewing the art and talking to others in attendance. Gregory said not everyone preferred social charity events, but she liked fundraisers, such as Friday's event, where she can meet new people.
"For myself, I'm a social person," Gregory said. "I love meeting and talking with people, so I would say yes, I like the get-togethers."
Gregory also said she is impressed by how many events the people of Baldwin City host and by the support of the community.
"Well I've always been impressed with how much Baldwin has going on," Gregory said. "I mean, if you look at it, Planes, Trains and Automobiles, Thomas the Train and Maple Leaf. It's just like every week, there's so many different things."
The event had been discussed since the spring, and McCullough and others spent the final month before the event getting everything in place.
With the success of the first year's event, McCullough said she was looking to continue with an event similar on a yearly basis.
"We were talking with Jay Randels and thinking, trying to get maybe a couple bands or something to come in and kind of have an evening of it," McCullough said. "Maybe try and make it a little bigger from year to year."