Real World Design Challenge success leads to internship for
BHS

graduates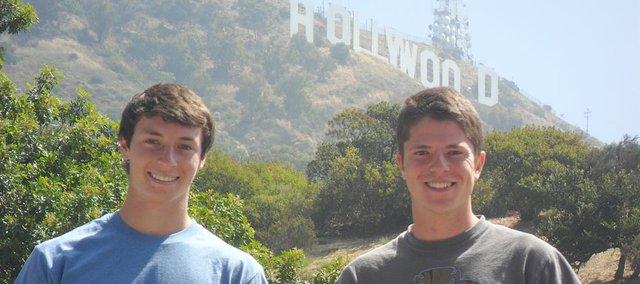 Brandon Baltzell and Carson Barnes have been getting jump start on their college and career and futures before entering a classroom this fall.
Instead of struggling to find summer jobs like many students, the pair of 2011 Baldwin High School graduates are summer interns at a software company in southern California. Their success with the Real World Design Challenge enabled the pair to become interns with NEi Software in Westminster, Calif.
"It is tough to beat getting paid to learn," Baltzell said. "Every day, I go into the office I learn a dozen new things. I'm very fortunate to have this opportunity. This internship has opened my eyes to the wide world of engineering and greatly increased my knowledge base."
Barnes shared the same feelings about the internship, which officially ends tomorrow.
"I think the best thing about the internship is getting a head start on what I will learn in college," Barnes said. "The travel is awesome too we have had the chance to see LA and some of the areas around it."
The pair of 2011 BHS graduates began their summer internship in early June. During their internship, they've been working in the technical support group. They assist with tutorials that help other people learn how to use the NEi software.
According to Baltzell, NEi Software produces, sells and maintains Finite Element Analysis software, which is used by engineers to test the structural capabilities of their designs on airplanes, ships, cars, tractors, or any other mechanical structure. Baltzell and Barnes are finding ways to integrate that software with new Computer Aided Design (CAD) software they used during the RWDC.
"I am really enjoying this internship," Baltzell said. "I get to play around with expensive engineering software that has barely hit the market and figure out its capabilities."
His classmate and friend agreed.
"I am really enjoying the internship," Barnes said. "California is a great place to spend the summer and the company we are working at is small so we get the chance to do lots of things that we probably wouldn't get to do in a bigger company."
Along with gaining valuable experience in their future field of study and enjoying the work, the pair of BHS grads has also soaked up rays in sunny southern California. They've spent time visiting beaches in the Los Angeles and San Diego areas.
"We live in Huntington Beach and are about four miles from the actual beach," Baltzell said. "We have gotten to spend time in Hollywood, Laguna Beach and San Diego. It is really nice to go to the beach and relax on the weekends."
The opportunity for the internship came from their success with the RWDC. While at the national competition in Washington D.C., Baltzell and Barnes heard a rumor that the CEO of NEi Software Inc. was offering an internship for a senior student of the top three teams.
Baldwin High's team finished third and later received emails offering them the chance at an internship. They both sent resumes and cover letters to NEi Software Inc. after hearing that 1-3 interns would be accepted for the summer.
"We knew we had a good shot," Barnes said. "We knew they were only going to accept kids who were 18, because of travel reasons and you had to be in the top three teams at nationals. That helped out our chances a lot.
"It was a surprise when we found out," he said. "We're really happy to have the opportunity to go. It's just another example of how the Real World Design Challenge has brought us an opportunity in the engineering field."
When the good news came that they were accepted for the internship, both BHS graduates were reluctant to tell the other, for fear that their friend wasn't accepted.
"It was very exciting," Baltzell said. "I was hopeful that I would get it, but it was one of those things where I didn't want to get my hopes up too much. I didn't want to be disappointed for not getting the opportunity. I was very exciting that I was chosen and almost in disbelief.
"Of course I didn't know if Carson had been chosen or not, so I was careful about how I asked him," he said. "We texted back and forth, basically beating around the bush until Carson said they gave him an offer. So I had to call him and tell him I got one, too."
Their internships end this week. After returning to Baldwin City, they will both prepare for their first college semester. Baltzell will be studying aerospace engineering at Kansas University, while Barnes will be studying engineering, with no focus yet, at Notre Dame University.
"The internship has been a good chance for me to get a look at what I am planning to study," Barnes said. "It's feels good going into college knowing what to expect, plus I think it will help me understand how I am going to use what I learn."