Linda Guss closes Charlotte's Daughters shop downtown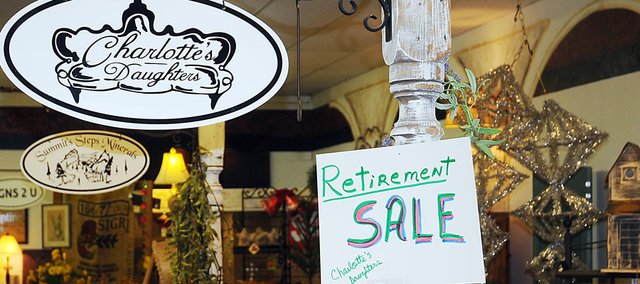 Linda Guss has a passion for antiques, auctions and finding treasures other people are giving away.
For the last 10 years Guss has turned her passion into a career, owning and running the stores Vintage Flea, and for the final six years, Charlotte's Daughters. But Saturday was the final day of business for Charlotte's Daughters as Guss begins her retirement.
"I love to buy and finding bargains and redoing and fixing up a few things, and that's how it came about because what are you going to do? You go to auctions and you see something selling and you think 'well I could resell that for a little more than what it's costing,' and if you want to do that you can't really collect all that," Guss said. "I guess you can, but I couldn't."
Guss said she had considered retirement since Charlotte's Daughters moved to its final location about a year ago but continued to try to weather the economic times.
"Just given the current economy and people don't have a huge amount of disposable income anymore, as they did even four or five years ago," said Erin Scraper, Guss' daughter and part owner. "You know, people aren't coming in and buying as much as they once were."
Although the store is closing, Guss and Scraper will keep the option open of making a return to the business. But right now, Guss is looking forward to spending time with her grandchildren.
"We're not going to close our accounts or anything, and we'll stay that way for a while until we make a for sure determination about that," Guss said. "We figure it's pretty easy. We can get back into the business pretty easy if we want to."
Charlotte's Daughters began a retirement sale in the middle of June with 30 percent off all items, and by the final days, the sale was 70 percent off. Scraper said the store sold many of its items in the last days.
"I think probably the hardest thing, and my mom would probably say this, that you know, we had a lot of people in Friday and we had a fair amount of people on Saturday as well, but you know just watching things, 'oh I really love that piece' and now it's gone.'"
Guss is very appreciative of the customers she's had throughout the years, but understands some residents are still unaware of the business opportunities located downtown.
"I have some really great customers, I do. And I appreciate everything they've done for me," Guss said. "They've been very supportive over the years. A lot of people have been. But then there's a lot of people who don't know we exist down here."
Scraper has shared her hobby for attending garage sales and auctions with her two young daughters and thought the three generations of family will continue this tradition.
"We have gone garage selling for many years," Scraper said. "And then kind of going from that to going to estate sales and auctions and I think I've definitely learned a lot from my mom in watching her at those … as far as pricing and how to bid on items and what to look for."