Baldwin baseball squad advances to state tournament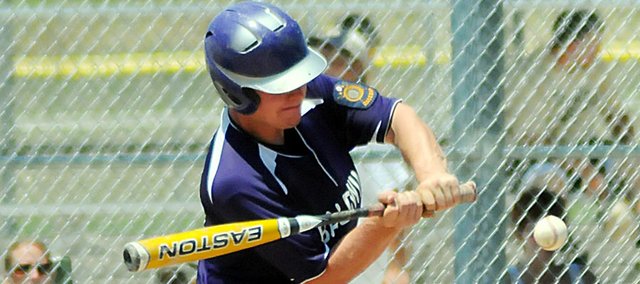 Baldwin City's American Legion AA baseball team made history last Wednesday.
For the first time in history, the Bulldogs baseball team qualified for the AA state tournament. Baldwin won its zone by defeating the Kansas City Cyclones 15-8 last week.
"We won our zone tournament," coach Brian Turk said. "We won it in three games and advanced to state. I'm pretty sure it's the first time ever that a Baldwin team has gone to state. It's a really neat honor for the guys."
Baldwin beat KC Cyclones once before the championship and Wellsville last week. Baldwin's first game in the state tournament was Wednesday evening in Ottawa, but the result of the contest wasn't available at press time.
The excitement of playing in the state tournament for Baldwin, who was 16-16 before the tournament, was easily seen on the faces of the players and coaches.
"We're pretty excited about it," Turk said. "It will be a fun experience for the guys. It will be a neat experience for some of the young guys. We will see some competitive baseball. It will be neat."
Last Wednesday, Baldwin jumped out to an early lead against the Cyclones. It was close throughout the entire contest, but Baldwin opened up the lead late to secure its second win over the Cyclones that week.
"We played pretty well," Turk said. "We gave them a few extra outs that led to some unearned runs with two outs, which is something we've been working to correct. When we get two outs, we need to shut the door and get off the field. I think we had three occasions where we could have had inning-ending plays, but we made some errors that prolonged the inning. Every time we did that, we put up a few runs in the next inning that made up for it."
Offensively, the Bulldogs put the pressure on the Cyclones' defense. Baldwin used bunts and small-ball techniques to force the opposing players to make plays in the infield.
"We really small-balled it well," Turk said. "The guys really executed some nice bunts and suicide squeeze plays. Offensively, we did some good things.
"From top to bottom, we really hit the ball well," he said. "I think Nate Growcock led us in hits for the tournament, but everybody hit the ball well."
Jesse McDaniels started the game as the pitcher for Baldwin. Tyler Brenn came in late to finish the game. Although there were mistakes defensively, Turk said it was one of the best games the Bulldogs have played all summer.
"Defensively, I'd still like to see us do things better," Turk said. "Offensively, last Wednesday was our best outing of the summer. The guys adjusted to the different pitchers well and we put the pressure on them. Sometimes in high school ball, it's overlooked how effective bunting can be, because defenses aren't generally ready for it. That forced a couple errors on their end kept them on their heels."
On Wednesday, Baldwin was scheduled to play Seneca, who was 27-3 heading into the state tournament. Turk said the Seneca team had good pitching and was a strong overall squad.
"The thing about legion ball is it's 19-and-under," Turk said. "We don't have any 19 year olds and we just have two 18 year olds. There are teams with three to four 19 year olds. It's going to be a swift test for us, as far as that extra age of maturity, growth and strength.
"We are primarily 17 and under and high school players," he said. "We will definitely be the youngest team in the tournament and we'll be without a couple of our players, which is unfortunate. We have some obstacles to get there. This is a huge step in our program to get there. We're going to lay it on the line and see what happens."
Results from the game will be online at baldwincity.com.