Baker summer theater program draws high school talent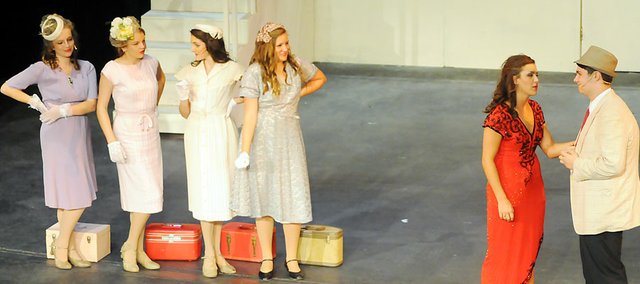 With a year left of high school, Mayme Marshall has already decided the direction of her future.
Marshall, a soon-to-be-senior at St. Teresa Academy of Kansas City, Mo., finished her fourth performance with Broadway at Baker on July 17. She has been performing 11 years and this was her seventh year performing with Music Theater for Young People, which took over Baker University from July 10-17.
"I'm just now going into my senior year of high school, but I know, without a doubt in my mind that musical theater is what I'm going to do and what I should do," Marshall said. "Right now, I'm just beginning the college process and starting to really look into certain musical theater programs that will suit me best. I know it's what I was born to do and nothing else makes me happier. So, I can't wait to start doing what I love for the rest of my life."
Marshall portrayed Reno Sweeney, a nightclub singer, in the musical "Anything Goes." It was a role she enjoyed to the fullest.
"Playing the part of Reno was a definitely an honor," Marshall said. "I've always wanted to play that specific role, because it really shows off every single aspect of a performer: singing, dancing, and acting. I got to do the three things I love most in one role and I couldn't have possibly asked for more."
She wasn't the only one of the cast members who enjoyed the experience. Emily Welter, who will be a freshman at Vanderbilt University next month, played Hope Harcourt in the Broadway at Baker musical.
"I had yet another wonderful experience this year getting to play Hope," Welter said. " While her character is not the most comedic, it was fun to play because I had just the right amount of work, and I was able to perform next to some really talented people."
Another fellow cast member began the weeklong camp by learning everything about his character. By the end, Anthony Fortino, who recently graduated from Saint Thomas Aquinas in Overland Park and will be attending Texas Christian University, was thrilled with his role.
"It was a challenge at first to play Moonface Martin, because I knew nothing about the character," Fortino said. "After the first couple days, I was able to figure out his role and position in the show. It was a blast playing Moonface, because I could do almost anything I wanted to on stage and would be right."
This year was Fortino's second year performing with the Broadway at Baker group. However, it was his MTYP show. Like the other actors, he enjoyed the week of casting, practicing and performing.
"I loved the week of practice and the final production, because it's incredible to see all the hard work make the show get better and better everyday until finally we reach full production quality," he said.
The director of the musical, Cary Danielson Pandzik, was also thrilled with the final performance of "Anything Goes."
"It was fabulous," Danielson said. "It really was great. I would say it was as good as we knew it could be. It was just great. The dance numbers, especially, were huge and spectacular. It was wonderful and I think everybody appreciated and enjoyed it.
"We had a very good crowd," she said. "It was bigger than usual. I think we got some Baldwin people to come, which was great."
The actors spend the week learning their roles and meeting new friends. However, the favorite memory of the week for Marshall and Fortino was the July 17 show.
"My favorite memory during the week of Baker was the Sunday afternoon performance, right before the encore of 'Anything Goes,'" Marshall said. "We had all finished the tapping of the first part of the song and hit our final poses before proceeding to the encore. The crowd was going crazy and there was nonstop applause. I just felt complete and utter joy at the fact that we had made so many people happy with what we love doing; musical theater."
While the end product is enjoyable and exciting, the week of camp is challenging for the actors. They practice more than 10 hours every day, memorizing and rehearsing their lines.
"Putting on a show in a week is challenging: the rehearsals are long and hard, and the expectations of the staff are very high," Welter said. "By the end of the week, though, the final production is so rewarding because the campers get to share the show that they worked on all week."
The Broadway at Baker group is working on its second show of the summer this week. About 12 of the students from "Anything Goes" are working on the new musical, "Urinetown." The crew was cast Sunday and received their scripts Monday morning.
"That's really hard to do," Danielson said. "You go from one experience where you're really high on that performance and then you start all over again with a whole new musical and cast. They are adapting well though."
The production will begin at 2:30 p.m. Sunday at Rice Auditorium, located at Eighth and Dearborn streets in Baldwin City.
"It's a great show," Danielson said. "A lot of people have probably never heard of it, but it's a very funny, satire piece. It's a lot of fun. The contrast between this and "Anything Goes" is huge. This show won Tony's against huge shows on Broadway."