LAC

exhibit features art from Baldwin City homes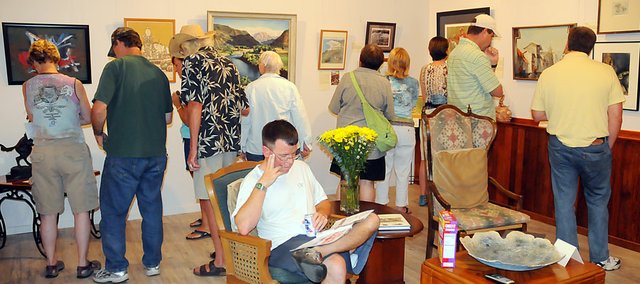 Those curious about what art their Baldwin City neighbors have in their homes can get a hint with a visit in the coming weeks of the latest show at the Lumberyard Arts Center.
The Lumberyard Arts Center "My Living Room Art (your art doesn't have to match the couch)" opened Friday with a large crown in conjunction with the Baldwin Community Arts Council's July Art Walk. It will continue through Aug. 13.
Hundreds of Baldwin City residents toured the LAC exhibit room during the two-hour Art Walk. They viewed pieces of art and other items, which came from the living room of fellow residents.
"That's the way we like it," Sandy Cardens, LAC volunteer, said of the busy gallery on Friday night. "It was good. Of course we had all of the other things going on that helped bring a lot of people downtown that night. That's the way we like it.
"It was probably the best one I think we've had. It was very well attended and really well received by the people who came and those who loaned us their art work."
Friday night's opening had a special flair to it that won't be available to view while the exhibit during its four-week run. There was live, performance art along with the artwork for visitors to view.
Marion Constantinescu, Joe Bathke and Scott Schoenberger became live art subjects during the Art Walk. They were seated on chairs and a couch in the middle of the exhibit. They read magazines, as if they were in their own house, but stayed mostly motionless and quiet.
"At first, I think people were confused," Cardens said. "Then they started to get it. That was exactly how we knew it would happen. It was amazing, Although I did find out that our mayor could make them laugh. He got Marion to respond to him."
Friends of the Baldwin City Community Theater actors, along with other attendees, enjoyed the added touch to the exhibit.
The exhibit was a big hit with many Baldwin City residents. Even those who contributed artwork enjoyed seeing the other pieces and reading the stories that accompanied each work.
"I was excited about that living room art exhibit," Mayor Ken Wagner said. "Some of those stories are very interesting, and all of those pieces of art have a story. It's interesting to read why people donated those to the exhibit. I thought it was fascinating."
Baldwin City resident and LAC board member Tony Brown said the exhibit is one of his favorites among those at the LAC.
"I think it's a great show, because it comes from people's homes," he said. "This is the art that we live with, and one of the themes of the Lumberyard Arts Center is 'art is all around us.' We all participate in art and it's evident through this exhibit. That's an important part of their lives."
Cardens came up with the idea for the exhibit after learning of residents loaning art for display elsewhere. Cardens and other LAC members began contacting dozens of local residents and the idea blossomed into a display, which includes artwork from 26 community members.
"We contacted people specifically," Cardens said. "We didn't tell them what we wanted. We told them we wanted something that meant something to them, and they would be willing to share. We also wanted to know why they liked it or how they came to own it. The people just told us their stories and it was particular. Some of them are funny and some are really touching.
"I'm really happy with it. It turned out nicely. I almost panicked when I walked in and there were so many and they were so different."
Brown hopes the public will come view the exhibit and read the stories attached to each piece of art.
"I think it's always interesting when people share the artwork that they have and they love with the larger community," Brown said. "I just think it's a great show. It communicates the theme of art is important to us and it enhances our lives. We have it around us all of the time. Let's share than and celebrate it as a community."
The LAC is open from 1-4 p.m. Tuesday through Friday and 9 a.m. to noon on Saturdays.