Kazoos, cupcakes thrill Art Walk visitors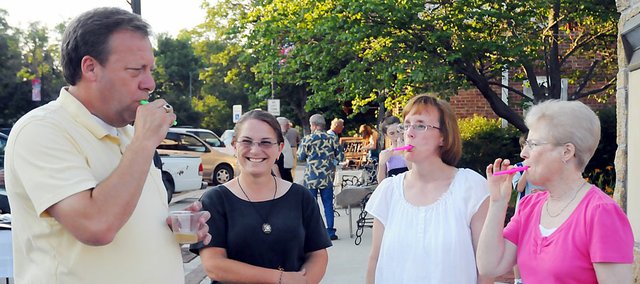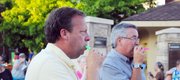 Baldwin City Mayor Ken Wagner couldn't recall the last time he played a kazoo before Friday evening's Art Walk.
However, once he listened to Sen. Tom Holland and about 100 Baldwin City residents play the children's musical instrument, his memory came back. Wagner joined the Baldwin Community Arts Council's kazoo-along at the community fountain for a patriotic collaboration.
"It had been a while," Wagner said. "It had been quite a while actually. I saw some drool come out of some of the kazoos. We are all kids at heart."
Wagner wasn't the only one to jog the memory bank for the kazoo-along. Art Walk organizer Wayne Jarvis said many attendees were confused at the beginning of the event.
"Most people was a little slow to pick up on it," Jarvis said. "However, once they did, everybody got into it."
Originally, the event was planned to be another flash mob surprise for the July Art Walk. However, without enough planned participation, Jarvis and Patti Wiseman distributed the kazoos to attendees and invited them to join along with patriotic music.
"I was kind of looking forward to being part of a flash mob," Wagner said. "I thought it was really fun. I was next to Tom Holland, who ran for governor, and he was pretty good. He is a musician, and I didn't know that about him. I was listening to him harmonize on the kazoo. I thought it was a great event. I like Art Walk, but I thought that one was particularly fun, because it got more people involved."
While the kazoo-along was the surprise of the evening, it wasn't the only addition to already busy Art Walk. Besides the array of local artists and their works, there was also the Community Emergency Fund's ice cream and a cupcake-decorating contest. Both were popular among attendees.
"We were very pleased," Jarvis said. "I've only been involved with this for two years, but I think that was the best crowd we've had since I've been involved. I think it helped that we had stuff going on inside the Lumberyard. They could come inside and cool off from the heat."
The cupcake contest included 16 entries and most of those were pre-made cupcakes, although cupcakes were provided to those who just wanted to decorate. The designs ranged from corn-on-the-cob cupcakes to flower bouquet cupcakes.
"It went very well," Jarvis said. "In fact, we were caught a little by surprise that week when people started catching the buzz about what was going on. We had conflicting information out there. It was a little rough going into it, but it went very smoothly. We were very pleased with the participation. The public seemed to be into it. I don't know if there were many, if any, cupcakes left."
Baldwin City's Christy Carlisle won the contest. Her cupcakes were frosted and topped with a candy sculpture on top. She scored 71.92 points out of a possible 90. Courtney Johnson finished runner-up with a score of 71.07 points. There were two official judges, but visitors were allowed to vote for their favorite.
"They were all really good," Jarvis said. "The difference from first to fourth place was less than two points on the score sheet. They were all very, very close. We learned from this one and hopefully we'll repeat it next year and have even better success."
Outside of the Lumberyard Arts Center, many of the Art Walk attendees enjoyed the annual tradition of ice cream at the July event. The CEF was accepting donations for the ice cream and other treats.
Jarvis and other organizers have already begun planning the August Art Walk, which will be Aug. 19. The final slate of events isn't set, but they will be trying to redo a contest that was rained out a year ago.
"One of the big events there will be the sidewalk chalk art contest," Jarvis said. "We had really good responses to it last year until it rained. It poured on us. Up to that point, we had several participants with goodlooking stuff."