BHS

graduate Thomas learning in halls of Congress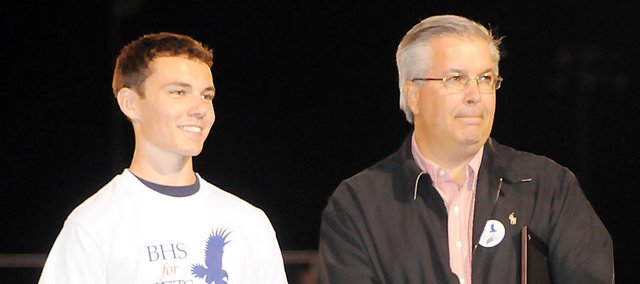 Some students decide to take the summer off after graduating from high school and relax before embarking on college life.
Colin Thomas is not following in those footsteps by spending the summer on the couch.
Instead, Thomas has been spending the month of July in Washington, D.C., working as a congressional intern for Congresswoman Lynn Jenkins.
"I feel very blessed to have the opportunity to start a career of service right out of high school," Thomas said. "Congresswoman Jenkins example of public service and leadership is one I hope to emulate in the years to come."
Thomas sent in an application to Jenkins, who selected him for an interview. He began the internship on July 5 and his duties include attending briefings, giving tours of the Capitol building to constituents, running errands, answering phones and sorting mail.
Thomas said even after a week on the job, he was gaining skills that will help him later in life.
"It has already taught me lessons and skills I can apply down the road," Thomas said. "The ability to handle many different tasks at once will serve me well in any career."
Jenkins has also been pleased to have Thomas as a member of her staff.
"Colin has been a great addition to my Washington staff," said Jenkins in a press release July 8 announcing Thomas' internship. "His personal drive and strong work ethic have allowed him to hit the ground running. I am confident Colin will serve the folks of Kansas well."
Thomas graduated from Baldwin High School in May and while in high school he started BHS for Vets, which was a ceremony recognizing veterans during halftime of a BHS football game.
When Thomas ends his Washington, D. C., internship, his next stop will be Lawrence to attend Kansas University in the fall. Thomas will also be on the Dole Institute of Politics Student Advisory Board at KU. After learning from a United States Congresswoman, Thomas is looking to become involved in student government at KU.
"I've only heard good things about KU's Student Senate program, and I look forward to getting involved," Thomas said.
Thomas is already gaining experience in the area of politics, but he is still unsure what the future holds for him in terms of his career.
What Thomas does know is he wants to serve his country.
"I want to serve my country, but I'm not sure about the exact role," Thomas said. "I hope to do ROTC at KU and serve in the military."