American Legion baseball keeps improving during summer contests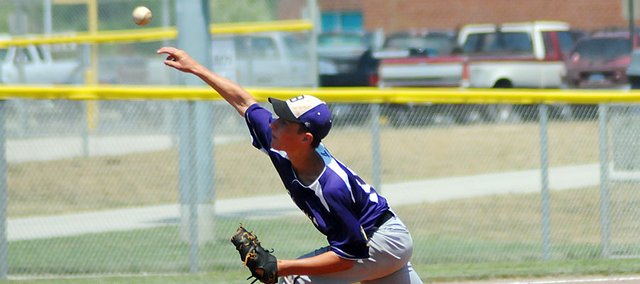 As the summer baseball season winds down, coach Brian Turk likes the progress that his players have made from the high school spring season to the busy summer season.
Turk, who is the head coach at Baldwin High School and coaches the Baldwin City Recreation Commission teams, has been especially proud of his American Legion AA team during the past two weeks. Before the Bulldogs' game Wednesday night, they had won four of the previous six, including back-to-back wins Monday and Tuesday nights.
"We were struggling a couple weeks ago," Turk said. "We were playing ugly baseball and weren't getting it done on either end. I challenged the guys and they really stepped up. Since then, we've cut down on our errors and strikeouts. We've given ourselves a much better chance to be there at the end of games."
On Monday night, the Baldwin 19-and-under team faced a familiar foe. The Bulldogs played Wellsville, whom they played Friday at the Kansas Amateur Baseball Association League Tournament in Baldwin City. The Bulldogs won 11-3.
Baldwin traveled to Kansas City, Kans., on Tuesday evening to play the Kansas City Cyclones. Baldwin's offense came alive once again as it won 16-11 and continued its season for another night. On Wednesday, Baldwin played the winner of the Wellsville-KC Cyclones contest and a win would propel Baldwin into the state tournament.
"We played fundamental baseball," Turk said. "The main thing is we are putting the ball in play and making the other team work. We executed some nice bunts. We played small ball a lot. We made the other teams work and they threw the ball around a bit. We put the pressure on them and our guys are playing hard and focused. It's been much better performance over the last week and a half. We're really proud of what they've put together during the last two tournaments."
Baldwin hosted the league tournament last weekend. The Bulldogs went 2-2 and finished fourth out of 12 teams. The other league teams are Linn County, Ottawa, Paola, Spring Hill, Wellsville, Burlington, Chanute, Fort Scott, Garnett, Iola and Osawatomie.
Baldwin began the tournament by beating Paola, but fell to Iola later in the day last Thursday. On Friday, Baldwin scored three runs in the bottom of the sixth inning to beat Wellsville 6-4. The Bulldogs' tournament ended that evening when Paola beat them.
"We played much better baseball," Turk said. "We competed well. We gave ourselves an opportunity and got fourth place."
After Tuesday's victory, Baldwin improved its record to 15-16 this summer. Although the wins and losses have been up and down during the summer, Turk has been pleased with the progress of his players.
"We started off hot with a tournament in Ottawa," Turk said. "Then we kind of went through a lull for a while. We had only two ugly games all year where we didn't compete. We lost seven games by two runs or less.
"We've done some good things and it's been a productive summer," he said. "What we try to focus on in the summer is development of their weaknesses. During our regular season games, we try to work on a lot of things, even though it may not lead to wins. Wins and losses aren't as important as developing our players for next spring. That's the whole goal of the program. Come postseason time, we try to make a competitive run and focus on winning. Our league games are almost like a glorified practice. We want our guys to work on things we need them to adjust or development."
Turk and the other coaches also coached a 17-and-under American Legion squad this summer. That team finished 9-9. Time constraints limited the number of practices for both teams, but the coaches hope the numerous games have helped the players improve.
"We don't practice much during the summer, because we play so many games," Turk said. "Baseball is such a game of repetition. We've played 31 games. That's a lot of baseball situations and everything is a learning experience."