USD

348 budget approved for publication by board of education with slight mill levy decrease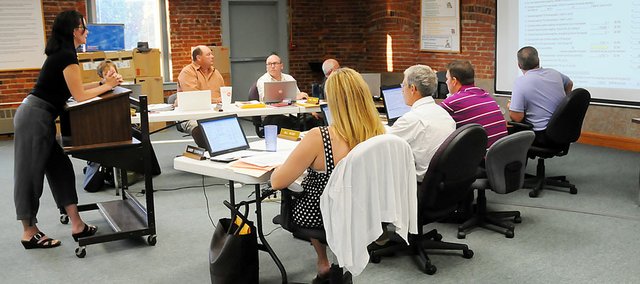 On Monday, the USD 348 Board of Education approved for publication the district's 2011-2012 budget, but final approval will follow a public hearing next month.
The budget approved for publication, pending approval of the Kansas Department of Educations, establishes the district total 2011-2012 tax levy at 69.835 mills, which is slightly less than that of the 2010-2011 budget of 70.143 mills. Those totals don't include the 5 mills for the Baldwin City Recreation Commission.
A mill equals $1 for every $1,000 of assessed valuation. At 69.835 mills, the district's share of taxes on a $150,000 home would be $1,159.
The published and final budget establishes expenditure levels, and the mill levy will float up or down to match those levels depending on final district assessed valuations numbers. The board can decrease spending from the numbers in the published budget but would have to re-publish any increase in to the spending levels before their approval. Also, the numbers aren't final until the Kansas State Department of Education approves them, which should be done later this month.
The proposed 2011-2012 budget would increase the district's local-option budget from 21.062 to 21.835 mills. The local tax revenue supplements state aid to local districts, which the Legislature this spring reduced from $4,012 to $3,780 per student in response the state's revenue shortfall.
That LOB increase was offset with a decrease in the bond and interest mill levy, which went from 24.084 to 22 mills for the 2011-2012 school year.
"I would say this year will be tough for school districts to lower their mill levy," Superintendent Paul Dorathy said. "I think everyone is going to face a problem with their LOB mill levy. I'm not recommending that we do that. I think we have an opportunity to lower our mill levy."
There was some discussion Monday or when to set the capital outlay mill levy. It was at 8 mills for many years until the previous school board decreased it to 5 mills a year ago.
The district still has the authority to tax up to 8 mills for capital outlay, but board members chose to print the budget at 6 mills.
"Last year, the board lowered the capital outlay mill levy," Dorathy said. "If you do that again, we won't be able to do all of those projects on the list. Last year, what we did was prioritize the list and take care of the most pressing needs first."
The 2011-2012 budget will be published in the legal section of an upcoming edition of the Signal. The budget hearing is set for 8 p.m. Aug. 8.