Kite Video food drive to benefit community food pantry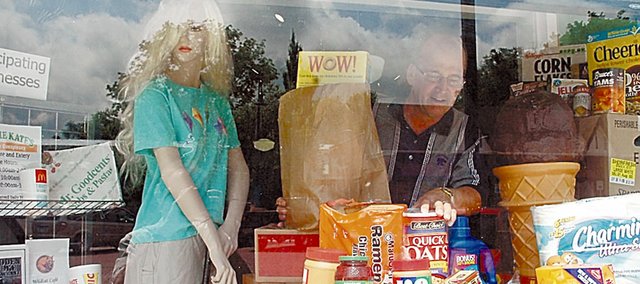 For the third straight year, Kite Video is hosting a food drive to aid the Community Food Pantry.
Owners Ed and Joanne Kite are trying to fill the window of their store, which is located at 718 Eighth Street in downtown Baldwin City. The food drive begins Monday and ends July 31.
"We always do it this same time of the year, because the kids are out of school," Joanne Kite said. "Without school lunches, more families are having to use the food pantry.
"A lot of people donate around the holidays, like Thanksgiving or Christmas, because that's when they think about it. However, the summer is a critical time. Everything gets really low during the summer."
During the two-week food drive, residents are asked to bring a large sack filled with non-perishable food items or a cash donation to Kite Video. When the donations are dropped off, the donor will receive a free packet filled with a variety of coupons valued more than $50. The packets are while supplies last and limited to one per family.
The coupons include free movie rentals, cookies, ice cream, a round of golf, miniature golf, pizza, coffee, one-day pool pass and discounts for groceries, T-shirts and hardware. Twenty-one local businesses are involved in the food drive this year.
"Everybody gives here in Baldwin City," Kite said. "I have to tell you that the businesses are terrific. Everybody is stretched thin, but people always support it. We even added a few businesses this year."
As for what's needed at the food pantry, the list is lengthy. But there are some suggestions.
"The really big need is food," Kite said. "They really need kid-friendly food this time of the year. Some of those are spaghetti, pasta, macaroni and cheese and peanut butter and jelly."
Besides non-perishable food items, other donations can include personal items, such as toothpaste, toilet paper or paper towels. Baby formula is also on high demand, according to Kite.
The past two years have been successful in helping the food pantry. The Kites hope this year will be just the same.
"It's been very successful," Kite said. "Last year we brought in 1,000 pounds of food and about $500-600 in cash. A lot of people just bring in cash, because the food pantry folks can go buy in bulk cheaper than they can buy individually. If we get cash, we just give it directly to the food pantry."