Bulldogs endure heat during opening days of annual camp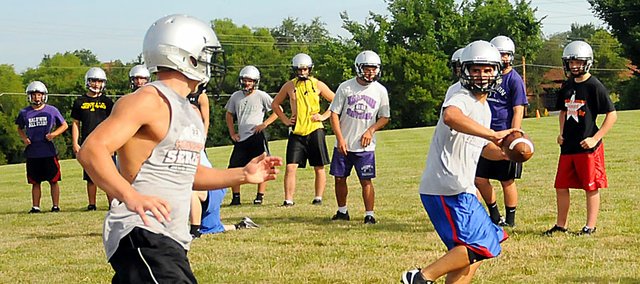 Mike Berg is trying his best to find the coolest time of the day for his annual Baldwin High School football team camp, but it's been difficult during this heat wave.
The longtime BHS coach always conducts his team camp during the middle of July, which often causes problems with heat. However, the first two days of the Bulldogs' camp were some of the worst he's experienced.
Although the camp runs from 7-9 a.m., the temperatures were already in the 90s during the middle of camp. It's been warm, but he said the players are handling it well.
"It's hot," Berg said. "It's been very hot, but our kids are in shape. We're really not focusing on getting them into shape right now, because they've been working really hard this summer. We're trying to teach what we are going to do in the fall. I told them it's all about learning right now. We're taking mental reps as much as physical reps."
Senior Will Simmons said the morning camp is much more enjoyable than the afternoon practices once the season starts in mid-August.
"It's warm, but it's better than in the afternoon," Simmons said. "So, it could be worse."
The temperature cooled off during Wednesday's camp after thunderstorms rolled through the area Tuesday night. Although it's been hot, Berg said the coaches and players have tried to keep their focus on preparing themselves for the fall season.
"We want to get our playbook in for offense and defense," Berg said. "Hopefully they will remember things, because after this week, we can't work with them until the season starts. We will do conditioning for the next month and concentrate on that until our first official practice."
According to the BHS players and coaches, the benefits of installing the offensive and defensive schemes during the summer camp show during the season.
"It helps a lot," Simmons said. "I remember those summers when we didn't have practice and it's made a huge difference during the season. It's nice to know our offense and defense before the season begins."
Before the Kansas State High School Activities Association changed the rule in 2009 to allow football coaches more time with their athletes during the summer, most teams installed schemes once practices started in August. They tried to install some during the team camp, but now they are able to teach the players the schemes in the weeks leading up to the camp.
"We're trying to get everything in, so that when the real season starts, they will hopefully remember what we've done," Berg said. "We hope it sticks into their memory until then."
While the coaches have tried to install schemes into the players' minds, the Bulldogs are also trying to have fun and enjoy the week of camp.
"It's lots of fun," Simmons said. "We are still learning everything. It's our last year as seniors, so we are enjoying it and trying to learn all of the new faces."
Simmons is one of a handful of players who saw a lot of varsity time last year. However, many of the Bulldogs played behind the 2011 seniors. That large class of players graduated, leaving Berg with a lot of returning players, but a slightly younger team.
"We are going to be youthful, but I like our team speed," Berg said. "That's a thing that we have a lot of this year. We have a lot of fast guys, which is exciting for us offensive-minded guys.
"We have a lot of question marks with positions and where guys are going to fit in," he said. "I think the guys are keeping an open mind and letting us coach them. Hopefully when the pads get on, they will show us what spot they are deserving of this fall."
The annual camp ends Friday with the Bulldogs tradition of hogball. It's a game of touch football that is played like team handball and ultimate Frisbee. They will play Friday morning at Liston Stadium.
"Oh yeah, it's always fun," Simmons said. "The senior class will win it this year."