Broadway at Baker campers prepare for musical with intense week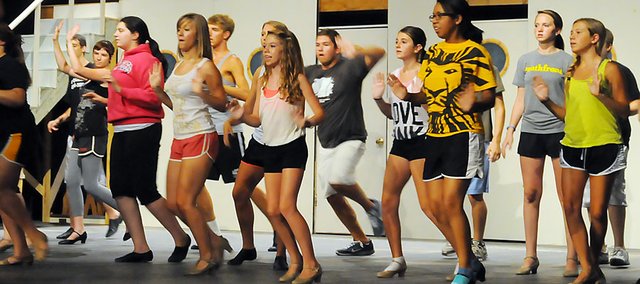 Forty-seven campers came Sunday to Rice Auditorium on the Baker University Baldwin City campus for the Broadway at Baker camp not knowing the role they would have in the camp's musical production.
The following Sunday, those campers will have learned and memorized every second of the show and will perform it after a week of preparation.
"It's just a formula that works for us," Broadway at Baker Director Cary Danielson-Pandzik said. "We've been doing it this way for a long time, and if you haven't seen it, it's kind of an amazing thing to see when you know on Sunday that the kids a week before didn't even know what part they were going to have."
Music Theatre for Young People of Kansas City, of which Danielson-Pandzik is the executive director, runs the camp, which started in 1987 in Newton. The camp has taken place at Baker University since 1992.
"We've been performing on this stage for almost 20 years, and it just works really well for us," Danielson-Pandzik said.
The age of the campers ranges from 13 to 18 years old and the majority are from the Kansas City area. Danielson-Pandzik said about two-thirds of the campers have attended the camp before and several have attended for many years.
Danielson-Pandzik has a staff of about 15 working for the show, which includes choreographers, musical directors, an acting coach and someone to work on costumes and props. However, she also relies on students who have been involved in Baker's theater program to help out.
Recent Baker graduate Ali Watson is a counselor for the camp for the second year in a row. Watson said working the camp was a great experience because Music Theatre for Young People is a recognizable company and said it is fun for the Baker representatives to work with the campers.
"Even though we're from a small college and have different experience levels, we all have something to bring to them," Watson said. "These kids also teach you a lot about having work ethic at a small age and 'OK, if they can do it at 14 years old, I can most definitely do it.'"
The campers will be performing the revised version of the musical "Anything Goes," which was written in the 1930s and revised in the 1980s. One of the reasons Danielson-Pandzik chose this musical was because the production involves tap dancing.
"It's a tap musical, and we have a lot of really great dancers, and so it's an opportunity for those people who tap especially to be featured," Danielson-Pandzik said. "I usually try to do a tap show every three or four years so that those kids can have a chance to shine."
Not only do the performers rehearse for 12 hours a day and participate in an evening activity every night, but also they must find time to memorize their parts.
"They've learned, especially the ones that have been here before, kind of they each have their own technique and they're very, very, very quick studies," Danielson-Pandzik said. "And I think they know they have to be. And the beauty of it is, once they've done it this way, and have learned to do a show in a week, if they want to go on into professional theater, that is the way professional theater works."
Watson said the week was a lot of concentrated training, and even at a young age the performers are treated like professionals, which is what separates this company from others.
Watson wished she would have known of camps like this when she was in high school, but will still jump at the chance to work at the camp in upcoming years.
"I don't know where I'll be, but I always tell Cary that if she needs me to counsel while she's still at Baker, I will most definitely do it because I enjoy it," Watson said. "I love the kids."