BHS

wrestlers, coach experience

U.S.

Olympic Training Center camp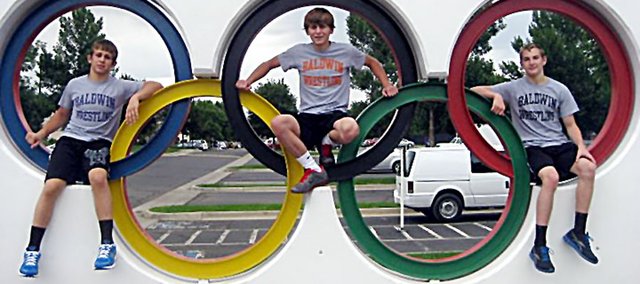 Kit Harris joined a trio of his Baldwin High School wrestlers for a week of top-notch learning in scenic Colorado Springs, Colo.
Harris and the wrestlers returned Sunday from their stay at a camp, which was held at the U.S. Olympic Training Center. They met some of the country's best wrestlers and coaches, while taking in some of the local scenic destinations during their visit.
"It's incredible," Harris said. "It's hard to describe being with the best in the sport, elite level of coaches, officials, sports psychologists and trainers. It was a great experience for me and the wrestlers to be a part of that and train for a week.
"You walk into the wrestling room and to the left are pictures of the Olympic champions and world champions," he said. "Those are the guys you've read about in magazines or seen on TV. It's a pretty awesome experience."
His wrestlers shared the same sentiment.
"Words can't describe it," senior Andrew Morgan said. "I learned so much. The coaches were amazing. It was incredible. I'm really hoping that I can go back one day."
Junior Bryce Shoemaker also hopes to return to the OTC next summer.
"It was a great experience," Shoemaker said. "I hope we can back next year. It was a lot of fun. I've gone to a few camps in Chicago that were like it, but the atmosphere was better. I liked it better than the previous ones."
Sophomore Tucker Clark was the other Bulldog who attended the camp. Each of the four BHS representatives had their own favorite aspect of the trip, but their drive up Pikes Peak and time spent at the top was one all of them enjoyed.
"Pikes Peak was really fun," Shoemaker said. "It was the best, because I've always to go up to the top. It was amazing being up there. It was a lot of fun going up to the top."
Morgan agreed.
"Pikes Peak was my favorite," Morgan said. "We jammed out the whole way to the top. We raced on top of the mountain and had fun together."
It wasn't all fun and games for the Bulldogs. They spent several days wrestling and training with dozens of the best high school wrestlers around the country. They were drilled by some of the nation's top coaches, which they hope will benefit their careers.
"There were a lot of good coaches out there and they taught us a lot of good stuff," Shoemaker said. "It mostly technique stuff that we learned. It was basically a lot of moves that we can use during matches."
For Morgan, much of knowledge sunk in to his brain. He said the camp also taught him how much harder he needs to work to become better, which is quite a feat for one of the hardest-working wrestlers on the team, according to Harris.
"We had a lot of sessions about technique with coaches and different world-class athletes," Morgan said. "We also had some nutrition sessions that helped a lot. There were also some about mental toughness. We learned a bunch of new things. One of the guys said he could name 50 moves off of the top of his head and half of what he said, I didn't know at all."
While the three Bulldogs wrestled some of the nation's best, their coach soaked in knowledge from top-notch clinicians and fellow coaches.
"We planned the practices and sessions. I worked with the head clinicians and talked about technique about every day. I also had to be in charge of a 6 a.m. workout. One of the best things personally for me was spending time with the national-team coaches. I would talk to them at lunch, in the dorm or at practices about things they do for practices, morning workouts and weight management. I was able to ask them questions and get great feedback."
Now a new challenge awaits the trio of Bulldog wrestlers. They will head to Fargo, N.D. to compete in one of the nation's best tournament. It's a Greco-Roman and freestyle tournament.
"They were wrestling guys that were placers up there all of last week," Harris said. "So we're hoping this will help them and build their confidence, because they were holding their own against the wrestlers at the camp. It will be fun to see how much they've improved."
The thought of becoming a Fargo medalist has the Bulldogs anxious and ready to battle.
"I'm really hoping to place now," Morgan said. "Before I went to this camp, I didn't think I had any chance. Now, after going to the camp and competing with the athletes up there, I might have a shot if I get my head right. I plan to give it my all."
They hope to learn from previous experiences at the tournament, too.
"Last year, I was nervous," Shoemaker said. "I'm glad I went last year, because now I know what to expect. This year I have a little bit better chance of placing."