BHS

volleyball players improving during summer workouts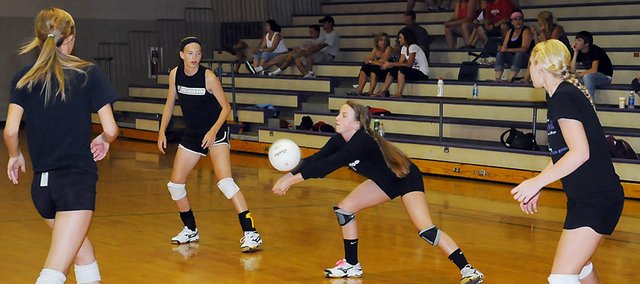 With the final days of summer workouts and its team camp beginning today, the Baldwin High School volleyball team has endured a successful summer, according to coach Kelly Brown.
Since the school year ended in late May, the Bulldogs have been busy playing volleyball at least twice a week, while juggling other sports and camps, such as basketball and softball. The BHS volleyball players have been in the gym during the mornings and come back to play summer league matches at night.
"The summer is going great with the girls," Brown said. "It's been busy, but it's been good."
While the Tuesday night games have gone well for the Bulldogs, it's been the morning workouts where Brown has seen the biggest improvement. She has opened the BHS gym every Tuesday and Thursday morning to any volleyball players who wanted to come in and work out.
On average, about 15-20 BHS players attended the optional open gym sessions. They practiced fundamentals and even scrimmaged most mornings.
"We definitely had a good mix of girls," Brown said. "We had a core group that was there every time, unless they were out of town. We always had a great turnout. We were always able to scrimmage at the end of open gym, which was nice to see."
However, it's the structure of the workouts that has helped the Bulldogs improve as players and a team.
"We've already seen so much improvement out of the girls this summer," Brown said. "We've worked on things that normally we didn't work on during the summer. We had a much-more structured environment that helped quite a bit.
"It's definitely helped being able to coach them during the summer," she said. "The biggest key to our success this fall is us coaching working together to have a structured environment and pushing them to work harder in our open gym sessions, so that they are getting more out of it as student-athletes."
Once a week, the Bulldogs would scrimmage Santa Fe Trail and Osage City. Each school hosted at least one week this summer. Those matches helped build team chemistry, while driving the competitiveness of the players.
"We definitely had a winning season summer league," Brown said. "We played hard and fought hard. One team we enjoyed playing, because we see them so much during the season and have a club experience during the year, is Santa Fe Trail. Those were hard-fought matches every time. Both teams really work hard in those matches. I'd say we were definitely playing a higher level of ball when we saw them each week."
Two of the summer league nights were spent playing some very talented teams. The Bulldogs played against a state championship team and a group of former Bulldogs.
"We also played against some alumni from Baldwin a couple of nights," Brown said. "On the last night, we played against the alumni team from Osage City that won state in 3A last year. It was a very competitive atmosphere. The girls worked hard to get themselves prepared for the season."
Due to busy summer schedules, some of the Bulldogs weren't able to play each week, because of vacations or prior engagements. Despite incomplete rosters, Brown was still impressed with her team's performances.
"With kids busy during the summer, we were missing girls each week," Brown said. "During the first week, Paris was gone. Kaysha Green was gone one week. Madeline Brungardt was busy with softball. Trying to get on the same page with summer schedules was difficult. The nights that we were all there, we definitely clicked and looked great."
The Bulldogs will begin their annual team camp this morning. However, this year's camp is different from previous ones. The Bulldogs will be joined by the SFT players and the Washburn University coach will conduct the camp at BHS. It will run 9 a.m. to 4 p.m. today through Saturday.
"I think they are ready for it," Brown said. "They have worked hard all summer and this is that ending note to our summer. This will help us define what we need to work on going into the fall."