Art Walk offers chance to cool down Friday evening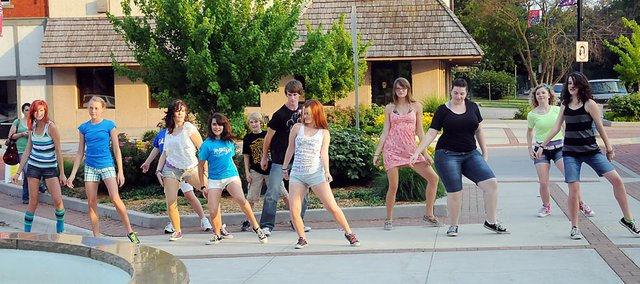 Cupcakes, ice cream and a surprise. Oh my.
Baldwin City residents can beat the heat Friday evening with a cool treat or decorate a winning cupcake at the July Art Walk. The Baldwin Community Arts Council event will be from 7-9 p.m. in downtown Baldwin City.
The July event is often busy as patrons come downtown to enjoy the ice cream and local artists. The ice cream will be free but donations are appreciated.
"The Community Emergency Fund group will be serving ice cream as a fundraiser," said Wayne Jarvis, event organizer. "They will have some other refreshments. Donations will be accepted for the ice cream and refreshments."
In addition to the ice cream, which draws a large crowd, there will be a cupcake decorating contest. It will last from 7-8 p.m. There will be about 75 cupcakes provided for the competition, along with the supplies to decorate them. There is a $2 entry fee for each competitor.
"Since this is Kansas' 150th anniversary, that will be the theme for the cupcake war," Jarvis said. "It will be a cupcake decorating contest."
The winner of the contest will be decided by popular vote. The contest will take place at the corner of Eighth and High streets.
Along with each of the summer Art Walks, the BCAC is planning surprise entertainment. There was a small flash mob at the community fountain during the June event. Jarvis wouldn't reveal detail of Friday's surprise, but he does hope people come to check out the surprise.
"There will be a surprise planned at each Art Walk," Jarvis said. "We are planning surprise entertainment to peak people's interest to come out and see what's going on at Art Walk."
Last month's opening Art Walk was deemed successful. Jarvis said was generally the case because of timing.
"The first one usually has a big crowd, because it's the same weekend as Planes, Trains and Automobiles, along with the community theater production," Jarvis said. "There are people in town for both of those events, so we usually get a good crowd."
In addition, the BCAC hopes Friday's crowd will be larger, because of the ice cream, cupcake competition and the art.
"We're hoping for a large crowd this Friday with the ice cream," Jarvis said. "We hope our surprise entertainment also brings people out. You don't want to miss out."