Local farmers hope for rain to aid crops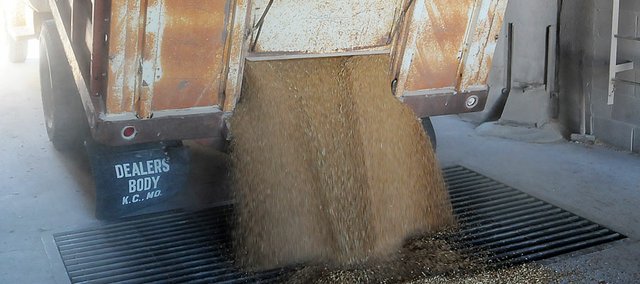 While fans of fireworks wanted to see clear skies on the days surrounding Independence Day, farmers are hoping for rain at the most important time in the corn growing season.
Steve Wilson, owner of Baldwin Feed Company, said corn would pollinate around July 4 and it is crucial it have rain during that time. Even if the rain is days or a week late of the holiday, the corn crop's yield could start diminishing.
"It can look good up to this point and if there's no water there to actually make the corn when it's ready to pollinate, then it might not turn out very good at all," Wilson said. "All rains are crucial, but this particular one coming up in the next week … it's the one we're looking for."
Kansas is known for producing wheat, but even though wheat is still grown, the focus in this area is on corn and soybeans. The wheat harvest is about 90 completed, and Wilson said the average yield would be about 35 to 40 bushels per acre.
Wilson said the corn crop was strong two years ago and fair last year. With the right amount of rain, the corn this year is on pace to have another strong crop, he said.
With fuel, fertilizer and seed prices being high, Wilson said farmers need high prices and a good yield from the crops to make ends meet.
"Historically, you know, grains have been almost an all-time high the last couple months," Wilson said. "So to sell grain, the price has been excellent, but they also are going to need that price, plus a good yield, to cover the inputs, because the inputs have also gone up."
The wheat harvest didn't last more than a week to 10 days, but the fall corn and bean harvest can go on for two and a half or three months. For the farmers, this is about three months of hoping for the right weather at the right time.
"It's pretty risky. People don't realize how risky it is when you're trying to count on rains at specific times," Wilson said. "Especially in the middle of summers when they're few and far between."
Farmers will be watching the weather very closely for the next few months. Rain is needed for the corn to grow, but any rain the wheat gets once it is ready to be harvested can deteriorate it. Even with rain, too many windy, 100-degree days will also hurt the crops.
Wilson will be just one of the many on edge until the end of the harvest season, waiting to see what Mother Nature has in store for Kansas crops.
"Here you are, wanting the rain, not wanting the rain," Wilson said. "You know, they've got hay down, everyone's making, bailing hay, so they don't want their hay to get wet but yet they want rain on their crops. So, it is just a very stressful time right now to see everything come together and get everything done."