Hickory Creek team wins annual Trevor's Tournament fundraiser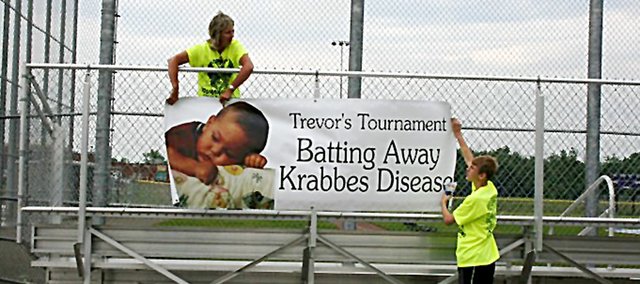 For the 11th consecutive year, Baldwin City's Bill and Michelle Leeker hosted a successful slow-pitch softball tournament and raised money for medical research.
The Leekers hosted Trevor's Tournament on June 25at the ball field complex on the west edge of town. The tournament is named in honor of Trevor Leeker, who was the son of Bill and Michelle Leeker who passed away Feb. 17, 2001, from a rare genetic illness called Krabbes Disease.
"It went really well," Michelle Leeker said. "I was really worried, because the rain made us start an hour behind. I think we left the park about 2 a.m. It was a very, very long day, but it went really well. We always center it around Baldwin, because Baldwin was there for us when we needed it."
The proceeds from the tournament benefit the Trevor Leeker Scholarship Foundation. The scholarship funds go to aid an individual entering a field focused on special needs children. They usual have between 60-150 applications for the scholarships
"All of those students are learning about Krabbes before they become doctors," Leeker said. "It's a great way to get it out there and the awareness of newborn screening."
Twelve local teams competed in the fundraiser. The softball games started at 8 a.m. and ended after 1 a.m., because two championship games were needed to finish the double-elimination tournament.
The Hickory Creek team won the title for the second-straight year. They beat the Rodrock Chiropractor team in the championship.
Although some of the same teams return year after year with many of the same players, Leeker is thrilled to see new teams and players every summer. It helps her and Bill spread the word about Krabbes Disease and testing infants for the fatal disease.
"About half or more of the teams return every year," Leeker said. "We also have some new teams or teams that missed a year or two. We had more first-year players than ever before. It's amazing, because every year we have people that have never been there before and they ask questions about what Krabbes Disease is and what happens. During the candlelight vigil, we show them videos of our son. This year we showed a video of a boy where you saw the progression of the disease."
Along with enjoying new players and teams, the Leeker's tournament has benefited from the use of the new ball field complex, which was opened in 2010. Instead of three old fields that needed repair, the tournament players are able to use four new fields, which are much nicer. Only two of the fields are used for games.
The new fields have also helped limit the number of home runs during the games, which has benefited the players, too.
"It's been wonderful, because you can watch all of the games," Leeker said. "We have a rule that limits teams to two home runs per game and the rest are outs. That was a big deal at the old fields. With the brand-new fields being bigger, we don't have as many home runs. It's also nice because everybody is in one place."