Ballard has high hopes for Baker men's basketball program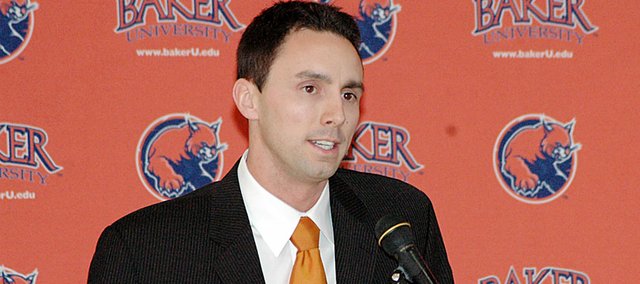 It's only been 15 months since he was introduced as the head men's basketball coach at Baker University, but he carries himself like a man who's been running the Wildcats' program for 15 years.
Watching Brett Ballard rev through his second-annual BU summer camp — which wrapped up Thursday with the help of current Jayhawks Thomas Robinson and Ben McLemore — gives a great impression of just how comfortable the former Kansas University player and assistant coach is in his new gymnasium.
"I'm excited about where I'm at," said Ballard, 31, now in his second year at Baker. "We've gotta get a lot better on the basketball court and I definitely think we're going to be a lot better next year. But as far as the overall feeling, I'm really, really enjoying it."
Year No. 1, in which the Wildcats finished 12-18 overall, including an 8-12 mark in the Heart of America Athletic Conference, brought a variety of highs and lows for Ballard, who spent seven years on Bill Self's staff at Kansas. In his first game as a head coach, the Wildcats won on a wild, last-second shot that went viral on the Internet and still is being talked about to this day. At the same time, there were several games — wins and losses — from which Ballard left the gym frustrated about the performance. But Ballard kept a level head, something that really impressed BU athletic director Theresa Yetmar.
"Brett definitely settled in exactly how I expected he would," Yetmar said. "He was very professional, always very prepared and our guys really responded to the intensity and energy he brought to the program. We needed that."
Every once in a while, that energy came out of nowhere.
"I think a lot of people were surprised by how he was on the bench during games," Yetmar said. "He paces a little and he stomps his foot from time to time. He'd always been a behind-the-scenes kind of guy at KU, so to see him get into it that much was very entertaining."
According to Ballard, it also was very genuine.
"I'm a competitive guy," he said. "I'm not necessarily real boisterous, but I believe in playing hard and getting after it and I love the way our guys responded to that."
Ballard, who played for former KU coach Roy Williams from 2001-02, said he realized, last season, that his coaching style was more in line with Self's.
"I love the way coach Self is," he said. "He'll get on those guys hard and the second it's over, it's over. That's how I try to be. I know our players don't always love me because I'm on 'em in practice. But at the same time we joke around and have a lot of fun."
Added Robinson, who played under Ballard for one year at Kansas: "He's definitely the same guy. B-Ballard was always respected and his word was always just as strong as coach Self's. I see him bringing the same stuff over here. I know they had a good season and I think he's going to do a great job here."
Ballard said the Wildcats showed improvement throughout the 2010-11 season, and he appreciated how much they welcomed him into the program right away. But he's not going to be completely content until BU is winning on a regular basis.
"Our seniors were great last year," Ballard said. "But we've gotta get a little more talent and we've gotta be committed to the mind-set that it takes to win. Losing is a habit and so is winning. We have to believe that we're going to win and I think we'll take another step in that direction this year. Until you do it consistently, you gotta preach it every day and continue to work towards it."
Work was never something Ballard shied away from. Whether it was as a 160-pound senior at Hutchinson High, a 37-minutes-per-game star at Hutch Community College or a grind-it-out walk-on at Kansas, he always put hard work above everything else. Though he's talked openly about what a difficult decision it was to leave KU, Ballard, in one year, has made himself the face of a Baker basketball program on the rise.
"He definitely bleeds orange now," Yetmar said. "And we've been excited about how his whole family has embraced the BU community."