KU

players enjoy time at Ballard basketball camp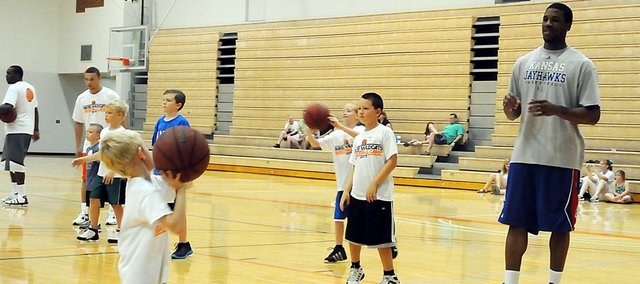 The 6-foot-9-inch frame of Thomas Robinson stood at one end of a line of second to sixth-grade campers at the final day of Baker University head basketball coach Brett Ballard's basketball camp Thursday in Collins Center.
Across from Robinson was one of the smallest camp members, Ryker Grossner, who worked on his passing technique, throwing the ball back and forth to Robinson during a drill. The 6-foot-5-inch Ben McLemore also stood in the line, sending a bounce pass to a camper across from him.
Possibly grabbing the campers' and parents' attention, more than the height differential of the two to the rest of the campers, was seeing the two Kansas University basketball players not on TV, but standing just feet from their fans.
"When I was a kid growing up, what it would have meant to me to have a KU player come to a camp I was at, I would have just been on cloud nine," Ballard said. "I think that's the case for a lot of these kids. It's pretty exciting for them, because … most of them don't get a chance to ever really meet these guys or go to a game."
Robinson, a junior for the Jayhawks, knows Ballard from when Ballard was on the KU staff during his freshman season. Robinson said he is always happy to come down and help Ballard whenever he is needed Ballard has always been well respected.
Robinson and McLemore, who will be a freshman at KU this year, have worked multiple camps this summer. But Robinson said being around the children never gets old, especially when it's children from a smaller community like Baldwin City that don't get this opportunity often.
"They don't go to sleep the night before, you know," Robinson said. "They're so happy that we're coming the next day. So, you know, it's definitely our responsibility to come in here full of energy and make sure they have a good time."
McLemore is the second incoming KU freshman to make an appearance at Ballard's camp before playing a game in a Kansas uniform. Former KU player Josh Selby joined former senior Tyrel Reed at Ballard's first camp last year.
McLemore said working the camps has been a good opportunity and he has adjusted quickly to being at KU.
"I'm ready. I'm just going to keep working hard with Thomas and the other players," McLemore said. "They are treating me like a brother. I'm new to this family, so pretty much they give me a lot of advice and stuff like that."
Not only does an event like this make a memorable experience for the campers and players, but for Baker, it gets the university's name out to people it might not otherwise.
Mike Grossner, Baker University head football coach and Ryker's father, knows what the relationship between KU and Baker can do for getting Baker's name out to people. Earlier this year Baker received national publicity when Mike McCarthy — Grossner's former teammate, friend, Baker alumnus and Green Bay Packers head coach — won the Super Bowl. Grossner thinks the KU, Baker connection is awesome and that it will continue to be strong and help more people know of Baker.
"We've had some pretty famous people down here in Baldwin City this year," Grossner said. "It puts us on the map as a university and I think people realize, you know, what a neat town this is."
Grossner was able to watch his son give Robinson a high-five after their drill, and what he enjoyed most from the day was seeing the joy each of them got out of the experience.
"The neat thing that I'm enjoying, yeah my kids are in it and they're experiencing it and it's great for them and great for parents to watch, but those guys work with these little guys so well, and with smiles on their faces, and I think it goes two fold," Grossner said.
For Robinson, working the camp meant taking a day to relax and return back to his youth.
"It's good to watch them learn about the game and get better," Robinson said. "And also it's a chance for us to escape and be an 8-year-old again."