BHS

girls edged out by Spring Hill in Top Gun title game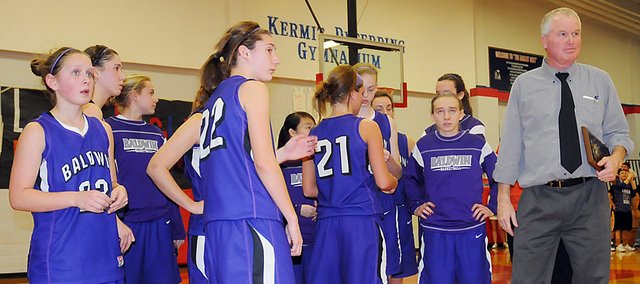 WELLSVILLE — For the second-straight year, the Baldwin High girls' basketball team finished runner-up in the Top Gun Invitational.
The Bulldogs fell to Spring Hill again as they lost 57-54 in an exciting championship contest. Two weeks prior, the Broncos beat the Bulldogs by 24 points.
Baldwin led Saturday's contest for most of the fourth quarter. Spring Hill hit two free throws with 16.9 seconds remaining to take a one-point lead. After a BHS turnover, Spring Hill made two more foul shots.
The Bulldogs and Broncos will play at Spring Hill Feb. 22 and possibly again in the Class 4A sub-state tournament.
Scoring summary
SH — 16 10 15 16 - 57
B — 16 8 19 11 – 54
Spring Hill — Jami Hodge, 14; Courtney Swope, 10; Melody Hanson, 4; Ericka Simpson, 16; Mollie Ravnikar, 11; Ashley Schoenhofer, 2.
Baldwin — Allison Howard, 14; Ramie Burkhart, 10; Myranda Behrens, 4; Katie Jones, 6; Kailyn Smith, 12; Monica Howard, 8.